Women in The Indian Army: Eligibility Criteria and Qualifications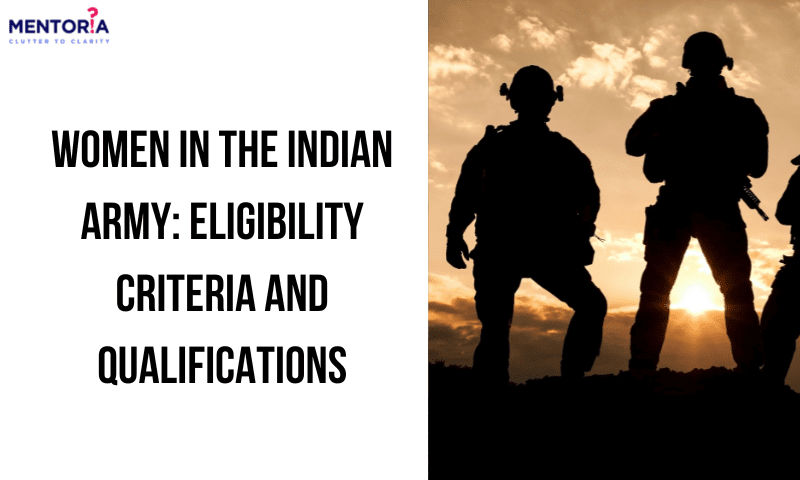 ---
---
Do you dream of serving your country in an Indian Female Army? If you're a young woman who aspires to join the Indian Army after your education, you're not alone. Yes! You heard it right. There are thousands of women out there who wish to serve their country with honour and pride. 
Undoubtedly, the Indian Army has been a male-dominated profession for years. But many don't know that women can join the prestigious force. Times are changing as more young women explore the possibility of joining the ranks after completing their 12th grade. This guide will give you everything you need about qualifications and eligibility for your dream career. 
Becoming a soldier in the Indian Army is achievable with the proper guidance and commitment. So, let's begin your journey to becoming a part of the Indian Army. 
Female Indian Army Qualifications
Before delving into the examination requirement, it is crucial to understand the eligibility criteria that must be met. Of course! Patience is the key to success, girls!
Lady officers are trained at the

Officers Training Academy

before being commissioned into various arms and services of the Indian Army. 

Most positions require candidates to hold a graduate degree, and the revised policies of the

Short Service Commissioned Officers (SSCO)

offer new opportunities for women to join the army. 

Short service commission for the regular army lasts 14 years (initially 10 years and can be extended by 4 years). The training lasts 49 weeks. After 2 years of service, SSCOs can become Captains.

Those who complete six years of reckonable trusted service are eligible for promotion to Major, while those who serve for 13 years can be promoted to Lt. Colonel. 
For females who aspire to join the Indian army after the 12th, it's essential to understand the eligibility criteria for various branches of the armed forces. 
1. Combined Defence Services (CDS) eligibility for females
The Combined Defence Services (CDS) examination is conducted twice a year by the Union Public Service Commission. It is a gateway to three academies: Indian Military Academy, Indian Naval Academy, and Indian Air Force Academy. However, women are only eligible for the Officers Training Academy (OTA). 
Criteria:
Candidates must be Indian residents permanently settled in India and have a graduation degree or be in their final year of study. 

The age limit is 19 years, and women candidates can only apply for OTA. 
2. Air Force Eligibility for Females
To join the flying branch, you must be healthy and meet some physical requirements. You must be at least 162.5cm tall and have legs between 99cm and 129 cm long. Sorry, but if you wear glasses, have colour blindness, or can't see well at night, you are not eligible to apply.  
Criteria:
The minimum educational qualification required is graduation, and candidates must have passed 12th with physics and maths subjects. 

A four-year senior division air wing or BE certificate is also acceptable. 

The minimum age limit for females to enter the air force is 19 to 23 years, extending to 25 years for those with a commercial pilot licence. Unmarried women and widows of service personnel killed on duty without children are also eligible to apply. 
Defence examinations for Indian Women after 12th
The Indian Armed Forces comprise four professional uniformed services – Indian Army, Indian Air Force, Indian Navy, and Indian Coast Guard, serving under the Union of the Republic of India. 
Now ladies, if you wanna join the Indian Army after finishing high school, you gotta know the rules. The good news is that the government now lets women join all three services. Many permanent commission officer jobs are available in the army, so check 'em out. And don't worry. There are many different ways to get in. So take your time and figure out what works best for you.
1. Short Service Commission (Non-Technical) for Women (SSCW NT)
Women who don't have an engineering background can still join the armed forces through SSCW NT. The UPSC conducts a written exam twice a year, and candidates must clear this exam and an interview to become officers in the Indian Army. To be eligible for this exam, female candidates must be between the ages of 19 and 25, unmarried, and have a graduation or post-graduation degree from a recognised university.
2. Short Service Commission (NCC) for Women (SSCW NCC)
If you're an active volunteer in the National Cadet Corps (NCC), you can join the Indian Army without having to clear a written exam. Female candidates must have served in the NCC for two years and be between 19 and 25 (married candidates are also eligible). They must also have obtained at least 50% marks in their graduation.
3. Short Service Commission (JAG) for Women (SSCW JAG)
Female law graduates can join the army through the Judge Advocate General branch. There's no written exam for this; recruitment is based solely on a Services Selection Board (SSB) interview. Women candidates must be between 20 and 27 and must have obtained at least 55% marks in their LLB exam.
4. Short Service Commission (Technical) for Women (SSCW Tech)
Female candidates with a graduate degree in Engineering can apply for SSCW Tech. There's no written exam for this; candidates are selected based on merit. Only unmarried female candidates between 20 and 27 can apply for this.
Need Help? Let's Talk!
It's now fair to say that the Indian Army has provided various opportunities for women to serve their country and achieve their dreams of joining the armed forces. 
If you're a woman who wants to join the Indian army, you need to know the rules and pick the best path for you. We talked about the qualifications and different ways to get in, so figure out what works for you and go for it.
If you are a woman aspiring to join the Indian Army and need guidance on choosing the right career path, Mentoria can help you. Mentoria offers personalised counselling sessions as a career counselling platform to help you make informed decisions and achieve your career goals. Get in touch for more information and take the first step towards a fulfilling career in the Indian Army.