Side Courses/ Certificate Courses to Take Along with BBA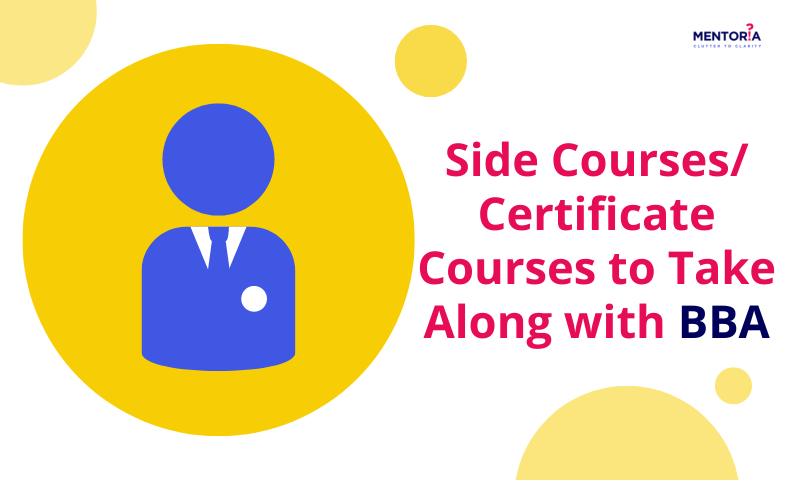 ---
---
If you are doing your undergraduate in BBA and feel guilty about veiling away your valuable time binge-watching TV series, you've come to the right place. 
Why Should You Do Side Courses?
In this competitive world where nothing is quite enough, it is essential that you learn to multitask. Because once you enter the workplace, the extra courses and certifications will help you stand out from the rest of your colleagues. Hence it is also important that you choose a course that is not just easy to learn but will also help you in the long run. 
What is BBA?
BBA (Bachelor of Business Administration) is a popular undergraduate choice for students. This undergraduate degree can help you get employment in various sectors, including  Sales, Education Finance, Government, and many more. 
Side Courses/ Certification Courses You Should Know About
CFA is one of the best courses you can take as a BBA graduate. CFA (Chartered Financial Analyst)  is a guarantee to your potential employer that you know the ins and outs of everything related to finance. If you are interested in Investment management, then having the CFA certification can go a long way in helping you get the job of your dreams. The exam consists of three levels and is not. 
Business Analytics
Today we deal with a pandemic of information overload. Plenty of data is available, and companies are always looking for someone who can convert their data into meaningful information. If you take a course that deals with Big data or business. Analytics courses can help you land a good position in a company of your choice.
Digital Marketing
Digital Marketing is now in every nook and corner of the internet. In our present world, where if your business doesn't exist online, it doesn't exist at all, there is an immense opportunity in digital marketing. Digital marketing includes various genres, including SEO, email, content, and social media. 
What Courses Can You Do?
Excel has almost taken over the digital accounting world. Adequate knowledge of excel and the shortcuts used can help you in the long run. The programming language  VBA (Visual Basic Applications) helps create programming codes named Macros. Macros are user-generated functions that are used in developing automated processes. This helps cut down on manual tasks and helps develop homogeneity within the company.
Learning Foreign Languages
Having a new language up your sleeve will always help you in the future. Learning a foreign language will also immensely help you if you plan to move abroad. Apart from being an additional pointer on your resume, learning a new language can help you widen your career prospects. It can help you create networks and help yourselves find new opportunities. 
Leadership
Leadership is a very important skill that everyone should learn. You should know how to motivate your coworkers when they are at their lowest and also how to work together in a team. A leadership course can help you build better relationships with your colleagues and a positive workplace.
Exercising Leadership: Foundational Principles
This course in Edx teaches you the fundamentals of leadership, and how to be a good leader
English Proficiency
English proficiency is a must for anyone from anywhere. It is important that you gain good speaking and writing skills in English. This can help you widen your career prospects and help you stand out from the other candidates. 
Here is a certification courses that can help you
This course can be availed at edx and teaches you the fundamentals of English grammar and how to use it correctly
CIMA, or Chartered Institute of Management Accounting, is the largest management accounting body in the world. The CIMA association, based in the UK and Ireland, is known popularly for its training given to candidates from the management and accountancy field. The institute also provides its students with ongoing support and training. It also hosts the largest number of Management accountants in around 180 countries.
Wondering what to do after your graduation? Still exploring the many options but cannot find out the one best suited for you? Take the Mentoria Assessment to find out where you truly belong!