Considering Pursuing a Career In Law? Here's a Guide on the Specialisations You Can Opt For In Law!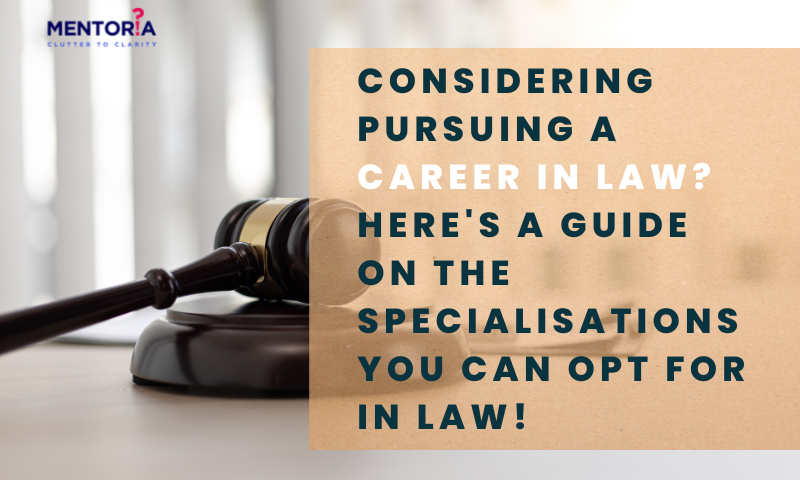 ---
---
Law is one of those professions that seems to promise a fruitful career, expertise in a complex topic that touches on every aspect of human life. Law specialists are held in high regard for their work in this renowned field. They engage with numerous people from all social classes and gain a thorough understanding of what makes people operate.
Law is one of the most common professions in the nation and one that plays a crucial role in society. The professionals ensure harmony between the legislative, executive, and judicial organs of the state. This area of study offers a wide variety of specialisations.
Therefore, if you want to study this subject in college, you might want to think about the area of law that most interests you. While you might opt to take a general law course, you can also specialise in the areas of law that most interest you at the postgraduate level.
Did you binge watch the entire series of Suits within a week? Do you aspire to be Mike Ross, Harvey Spectre, or even Louis Litt? Here's your complete guide on the law specialisations you can pursue!
What Are The Prerequisites For Pursuing a Legal Specialisation?
Numerous factors contribute to the popularity of this study, including the high salaries, numerous job opportunities, and intellectual stimulation. The LLB (Bachelor of Laws Degree), the Bachelor of Arts in Law, the LLM (Master of Laws), and the Juris Doctor are among the various accreditations for law degrees that are available. You will typically be required to complete this degree before specialisation. This will give you the fundamental knowledge you need to practise as a lawyer, advocate, or barrister.
What are Some of the Specialisations That You Can Pursue?
Criminal Law
What comes to mind when you think about law? Many people immediately think of criminal law since it is the form of law that is most frequently shown in movies and television. Criminal defence attorneys are in charge of defending their clients in court during criminal proceedings. In the District Court, High Court, or Supreme Court, they argue arguments on behalf of their clients. 
Criminal defence attorneys present their client's case before the judge, cross-examine witnesses and other relevant parties, and go over the evidence. The average salary made by a criminal lawyer in India is INR 7-15 LPA.
Environmental Law
Do you care about protecting the environment? The purpose of environmental law is to protect the environment for current and future generations. Some environmental lawyers may decide to work with major firms and companies, offering guidance on any further actions that might have an influence on the environment. The average salary made by an environmental lawyer in India is INR 5-8 LPA.
NGOs, governments, and environmental protection organisations may all employ environmental lawyers. Due to the complexity of this field, cases can involve large sums of money taking place in both criminal and civil courts.
Corporate Law
The scope of corporate law, one of the most prominent legal specialisations in India, has greatly expanded along with the expansion of the corporate sector, particularly following the LPG reforms. This area of law focuses on advising corporations on their legal privileges, rights, and obligations. In addition to studying statutes, constitutions, and ordinances, attorneys who practise corporate law must also assist corporations in making important judgments. The average salary made by a corporate lawyer in India is INR 6.9-20 LPA. 
Civil Law
The most sought-after legal specialisation involves managing damage claims, protecting individuals' private rights, creating wills and deeds, managing breach of contract claims, serving as trustee or guardian, and managing mortgages. A keen eye for detail, interpersonal and soft skills, analytical and logical abilities, as well as a journalistic perspective on the most recent legal developments, are all necessary for civil lawyers. The average salary made by a civil lawyer in India is INR 8-12 LPA.
Intellectual Property Law
Globally, the reach of intellectual property law is expanding quickly. International organisations, such as the World Trade Organization (WTO), create the fundamental framework for IPR legislation. The state similarly developed the policy, laws, and regulations to guarantee that each person's IPR is acknowledged and safeguarded. 
Intellectual property law focuses on the research and policy development components as well as an in-depth examination of IPR rules and regulations. The average salary made by an IPR lawyer in India is INR 4-14 LPA.
Tax Law
This legislation's primary areas of focus are land tax licence, property tax, and income tax. In terms of tax-related topics, they will study about government regulations, laws, and ways to assist tax defaulters. The need for tax lawyers in India is growing daily as a result of the complexity of tax calculation and numerous other aspects associated with it, such as issuing inheritance, sales, and many more. The average salary made by a tax lawyer in India is INR 5-9 LPA.
Constitutional Law
Constitutional law, one of the broadest topics, requires a thorough comprehension of the constitution's various interpretations and meanings. Students in this course learn about every facet of the Indian Constitution, the judicial system, various Supreme Court and High Court decisions, their interpretations, and other topics. 
The breadth of individual rights against the state and the examination of the federal structure of the nation are also included. The average salary made by a constitutional lawyer in India is INR 8-13 LPA.
Mentoria – Your Perfect Career Guidance Platform!
Confused about which specialization is the best fit for you? We're here to provide you with all the help! Kick-start your career discovery journey with Mentoria and discover the right career fit for you. Feel free to call us to speak to our career mentors and choose the right career guidance plan that suits your needs.
Mentoria's career guidance programme enables you to choose your perfect fit from 3 streams, 850+ courses, and 12,000+ careers, and discover what will bring out the best in you.