Everything About a Career in Sales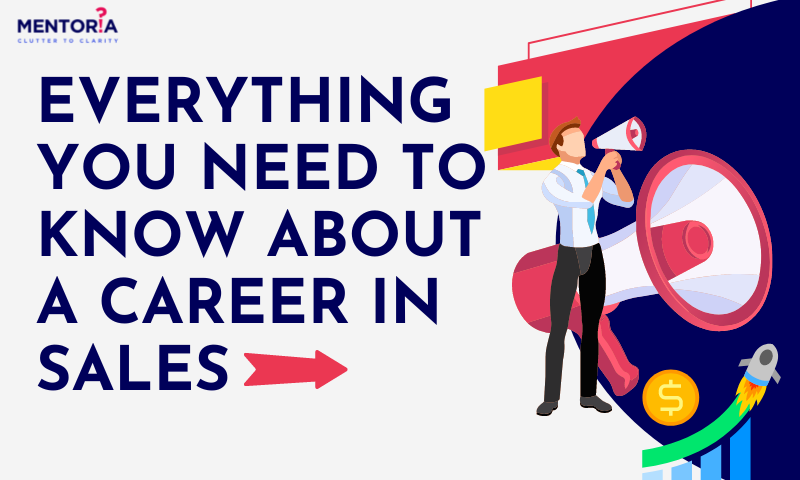 ---
---
If you have a knack for making people think the way you want them to, you are made for sales.
But is sales all about talking and persuasion and getting a person to buy a pen or a mobile phone? or is it something beyond that?
Do you think a career in sales will help you in your future?
Do you have what it takes to be a sales king?
Finally, the most important question, Is Sales for You?
Will I be Good at Sales?
It's time for a quick journey through the mangroves of your mind:
To be good at sales, you must have these qualities.
   

You are self-motivated and have set goals for the future

     

Does your friend come to you with a problem, and you easily find the perfect solution? If yes, that means you have excellent problem-solving skills, which is really needed in the Sales Industry

   

Are you the center of attention wherever you go? Are you good with negotiation? Do people love talking to you? Interpersonal skills are the quintessential skill of sales

   

Do you upskill? Do you love learning new things? Because sales is full of them

   

Are you an extrovert who loves people and learning about them? Then there can be no better job than being in sales for you

   

You are made for the job if you are excited reading the requirements. But just a disclaimer, sales are not for everyone.
Now, that we have the essentials figured, let's talk about the eligibility:
You don't need to have a bachelor's degree to be in sales.
However, it is always a plus to have a bachelor's degree. The best degree programs you can choose to have a career in sales include Finance, Management, Communications, Marketing, etc.
However, if you have skills, you can shine in sales without any degree, but with proper guidance and hard work.
Why is Sales a Great Career?
There are several benefits to pursuing a career in Sales, here, have a look!
 

Any business depends on sales for its growth. So, the sales industry is rarely going to suffer a setback. Since it requires a human touch, robots will never be able to conquer this industry. So, you have been safe for a long time.

You are rewarded for the effort you put in. You can get bonuses, commissions, and prizes if you put your heart and soul into your work. You can increase your earning potential by the number of sales that you close

 

You are always in-demand!. Companies ALWAYS want the best people in sales. If you prove your potential in sales, you will always be in demand everywhere.

 

Work wherever you want. So sales are one of the careers you can take wherever you go. You can work from the comfort of your home or anywhere you like. Just make sure that you hit the targets.
How can you get a foot into this ever-growing industry?
Every small, medium, and big business needs salespeople. (What is a business without sales?)
So the first thing that you should do is research. Once you have decided to pursue sales, research for the best industry that suits you.
Next, look for the small, medium and big companies in those sectors. Look at their work culture and what the people with that career path has eventually reached in their life
If you don't have an account on LinkedIn, it's high time you did. You can build a network of working professionals from every career path, including your dream career in sales. You can utilize these networks to land a career in sales, eventually.
Finally, the most crucial part is that you adapt yourself to the work culture of the company. Adapt yourself to the fast-paced customer requirements
Sales as a profession
In the sales profession, your main job will be uncovering the pain points of your potential customers. Then you have to use those exact pain points to create strategies and implement them to drive up your company's sales.
These are the various positions and roles that you can occupy  if you choose sales
Every company in every industry is always in need of the best salespeople because they drive sales.
With the emergence of technology, the marketing industry has taken a different turn. Now, social media is the new shopping mall. It is common knowledge that if a business does not exist online, it does not exist. Sales Force Automation technology has also helped sales employees by automating many sales tasks. The emergence of crypto, Meta, and Web3 is all a positive trend in the future of jobs in the industry. There are more opportunities today than ever before.
Which are the Best Sales Management courses?
Before you enroll in any of these courses, remember that the best way to master these skills is to practice them well.
Many platforms help you learn sales for free, though some of them might ask you to pay for certificates
         Where to find it – Coursera
          Duration – 4months
          Is it paid- Free
         Where to find it – Coursera
          Duration – 5 months
          Is it paid- Free
This course can help you learn the basic concepts of sales. The major focus areas of this course include Sales Management, Economy, and financial management.
Here are some institutions which will help you pursue this course
Exterior Interior Limited (EXIN)
Ayya Nadar Janaki Ammal College (ANJA)
St Joseph's College of Commerce (SJCC)
Get #CareerReady with Mentoria!
Not sure if Sales is your calling? Kick-start your career discovery journey with Mentoria and discover the right career fit for you. 
Mentoria's career guidance programme enables you to choose your perfect fit from 3 streams, 850+ courses, and 12,000+ careers, and discover what will bring out the best in you. Sign up today and take the Mentoria assessment to get started!