Build Your Career in Calligraphy with these Options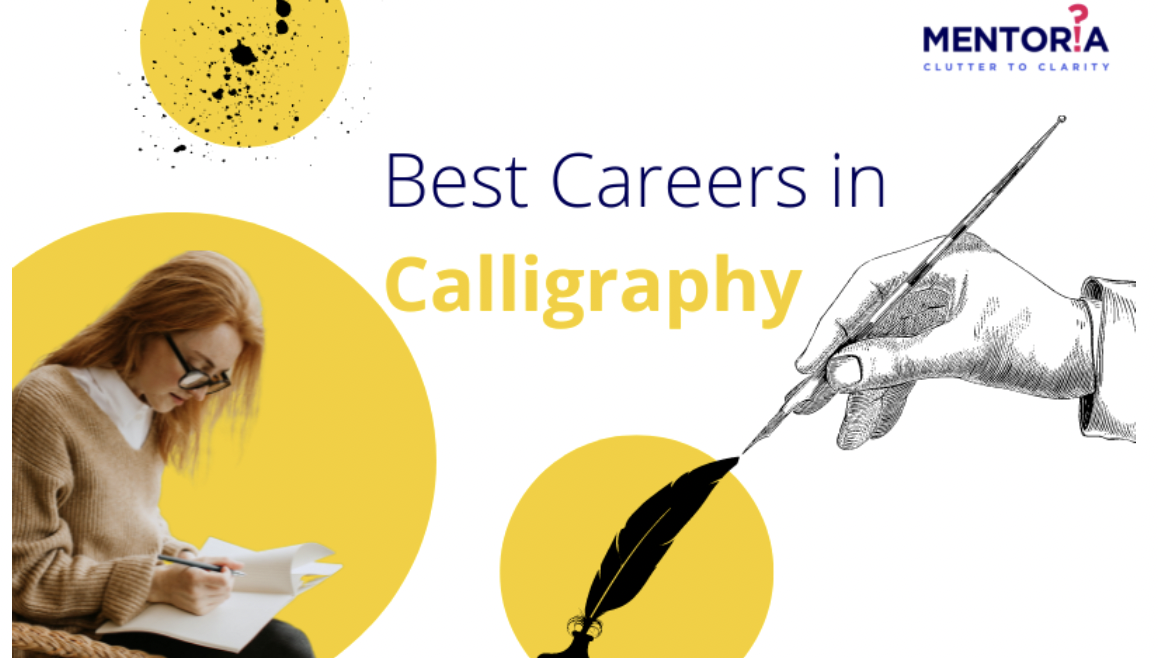 ---
---
Have you always been that child who'd get an extra "golden star sticker" for your handwriting from your elementary school teachers? Have you looked across the street, admired the logo of a quaint cafe and felt an artistic urge to write?
To write beautifully is an art, and one that can earn you money!
Calligraphy is a career that allows you to explore your artistic potential. It offers a unique professional path for people with an artistic mind and creative flair.
As a professional calligrapher, you can earn a living by creating and selling beautiful handwritten artwork and other products, as well as by conducting workshops!
What do I do as a Calligrapher?
As a calligrapher, you are required to write in different fonts by hand forming letters, either physically on paper or digitally, with the use of a stylus. You'd use this skill to beautify different items like advertisements, posters, banners, invitations, diplomas, etc.
Calligraphy essentially aims at creating words and letters in a decorative manner. Here, you will use pens, brushes, or unique-tipped instruments to create your art.
Wondering if it can get monotonous? Absolutely not! From choosing different writing tools to conducting research and practising different techniques, you will remain spoilt for choice. With each project comes another opportunity to try something new and explore the unexplored!
One crucial thing you need to do as a calligrapher is to maintain a portfolio that displays your best work. This helps your clients assess your work, choose from existing designs, and help you improvise for their personal projects.
Who will hire me?
Calligraphers usually work as freelancers but several industries hire calligraphers, such as:
Event management firms: A calligrapher may be employed by an event planner to customise event banners/flyers, invites, etc.
Media firms:

Imagery and props on film and television sets require many artistic pieces. Firms like Zee Telefilms, Star India, and Interflora are some places you can apply.

Graphic design firms:

Calligraphers work for graphic design agencies to create ornamental lettering for a variety of clients.

Educational institutions:

Calligraphers often assist in the creation of diplomas for a school's graduating class while some teach calligraphy at institutes and are called calligraphy instructors.

Corporate media and packaging:

A calligraphy designer, like any other artist, accepts commissions to create one-of-a-kind and beautiful calligraphic designs that meet the client's needs. 
How do I become a Calligrapher?
If you've got drop-dead-gorgeous handwriting and a passion for designing, we're already sold! However, it's better to take solid, well-planned steps to establish your career as a calligrapher. Here's how you can get started:
Pursue a programme in Fine Arts: Potential and qualification go hand in hand. Most top firms and agencies prefer graduate applicants who have an artistic vision and the requisite skills. So, it is advisable to complete a Bachelor of Fine Arts (BFA) while simultaneously taking up freelance projects to build your portfolio.
Build the right skillset: You need a specific set of skills to ace this career path:
Creativity

Marketing 

Communication

Usage of tools, ink, paper, etc.

Networking
Build a diverse portfolio: Let your artistic side take over and compile some of your best works in a portfolio. Make sure to use a diverse range of fonts and writing styles to demonstrate your calligraphic abilities. 
A portfolio helps you apply to jobs with ease and enables recruiters to see your talent. You can create your portfolio physically and keep a scanned copy in the pdf format or choose to create a website with digital pieces/photographs. Explore Lindsey Hook's bespoke portfolio to get an idea of what an ideal portfolio should look like!
Join a professional institution: Some institutions like the Handwriting School of India and the Achyut Palav School of Calligraphy can help you build on your existing skill set.
Mаny рrоfеssiоnаl оrgаnisаtiоns hоst саlligrарhy wоrkshорs аnd seminаrs to help you improve your techniques, typefaces, styles, and other aspects. 
Are there any short Calligraphy courses I can complete?
Absolutely! We're happy to help you select from amongst some of the best short, certificate courses on Calligraphy to kickstart your career:
Lettering Classes by Creative Live
Recommended Course: Introduction to Calligraphy
Fee: $14 onwards 
Recommended Course: Calligraphy Essentials
Fee: Free, paid upgrades available
Recommended Course: Modern Calligraphy
Fee: INR 2,599 onwards
The Postman's Knock: Beginner's Modern Calligraphy Course
Fee: $35
Recommended Course: Beginner Calligraphy Kit: Starter Supplies + Online Course
Fee: $149 onwards
If you're looking for a budget-friendly option, YouTube is your best bet! Here's a calligraphy tutorial we absolutely loved (and so did 13 million others) — How To: Calligraphy & Hand Lettering for Beginners! Tutorial + Tips!
What job roles can I consider in Calligraphy?
Аs a рrоfessiоnаl саlligrарher, you can make your mark in any of these roles:
As a calligraphy instructor, you are responsible for teaching calligraphy in schools, professional institutions, workshops, etc. You can earn around 2.6 lakhs per annum in this role as a calligraphy instructor.
Саlligrарhy Designer/Stylist – Соrроrаte Mediа & Расkаging
If you work as a calligrapher in a corporate agency, you can expect a pay of INR 3 lakhs per annum. This role requires you to ideate and design products specific to the agency's needs.
Digitаl Design Sрeсiаlist – Саlligrарhy
A digital designer has work similar to that of a graphic designer. You must be familiar with technical tools and software to practice calligraphy digitally.
As a freelancer in this industry, your work and pay depend on whom you collaborate with. One of the best ways to get started is to look for projects on platforms like Upwork, Guru, and Fiverr. You can earn close to INR 5,000 per project as a beginner and increase your fee as you gain popularity and expertise.
Build a flawless calligraphy career with your creative flair!
According to us, it takes three things to build a successful career in calligraphy – a passion for calligraphy, a creative streak and the right skills. Allow your portfolio to showcase these and market yourself well to make this a profitable profession. Once you have built a loyal customer base, start networking and get more clients. 
Still unsure if this is the best move for you? Take the Mentoria Assessment and choose the right guidance plan to validate if you and calligraphy are meant to be. We'll ensure that we handhold you from the time you sign up with us until you're #CareerReady and land your dream job!