The Ultimate Guide to Building a Career in Crypto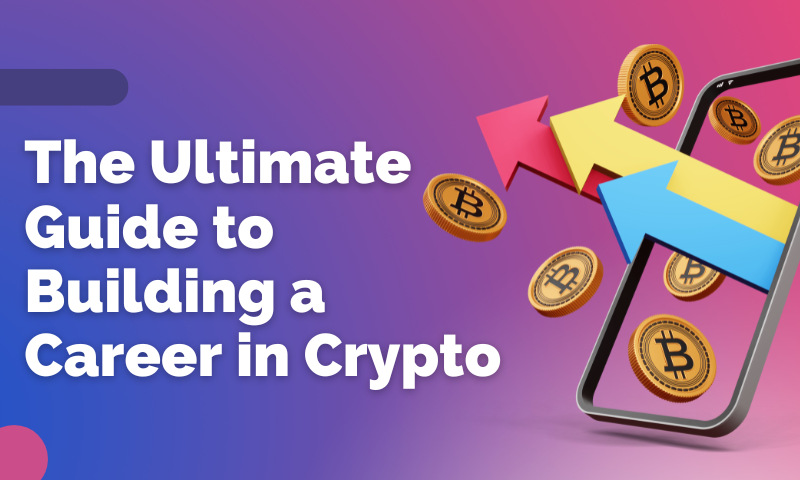 ---
---
Are you one of those 'netizens' who jumped right into trading with cryptocurrency long before it got trending? Boasted about crypto before your friends actually got the wind of it? Or are you one of the many who are yet to understand what goes on behind the scenes and are therefore wary of investing in it?
Love it or hate it, but crypto is an exciting and fast-paced part of our worlds, and it seems like crypto's here to stay. If this field interests you, it would be worth starting a career in Cryptocurrency. This is an advanced area of research with plenty of future innovations to come, so it is important to get the basics down to pat. 
Can't figure out how to get started with a career in Cryptocurrency? We've done the legwork for you! Dive right in and find everything you need to begin building your dream crypto career.
Cryptocurrency? That's Greek to me!
'Crypto' does have a rather cryptic ring to it, doesn't it? While it may not mean a lot to people outside the tech industry, it is one of the newest, most exciting concepts of this decade because it has given an alternate currency— and in a DIGITAL form!
Simply put, cryptocurrency is digital currency that uses encryption algorithms to act as an accounting system as well as actual currency for transactions. Oh, and the coolest thing— you get a virtual crypto wallet!
Which path do I tread on to build a career in Crypto?
You start building it bit-by-bit (haha)! We won't keep you waiting, instead, we'll jump right into the steps that you need to follow to ensure a successful and sustainable career in Cryptocurrency.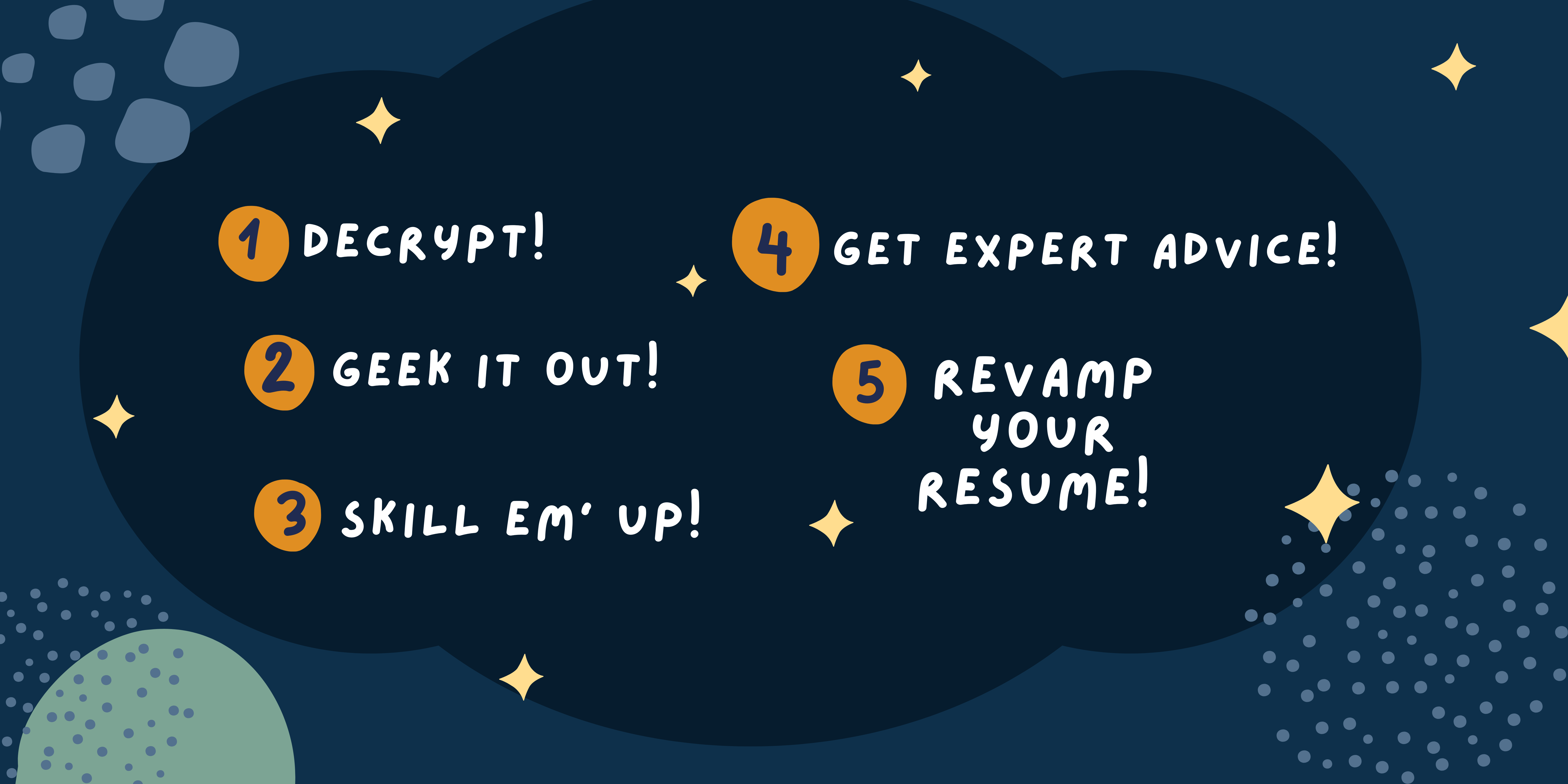 Decrypt the concept!  
The first step to build a career: read, learn, understand. Acquaint yourself with different cryptocurrencies to understand how they work in the digital and financial world.
Ether (ETH), Bitcoin (BTC), Litecoin (LTC), and Ripple (XRP) are some of the most popular cryptocurrencies around the globe. So, if you want to work with top-tier crypto brands in the future, knowing the top players is key.
Geek it out!
Upskilling is easily the most effective way to make your resume stand out. In a pool of tech applicants, your additional certifications and technical skills are what make you a more desirable candidate.
Wondering what skills help you succeed? Here are the top 5 skills you need for a promising career in Crypto: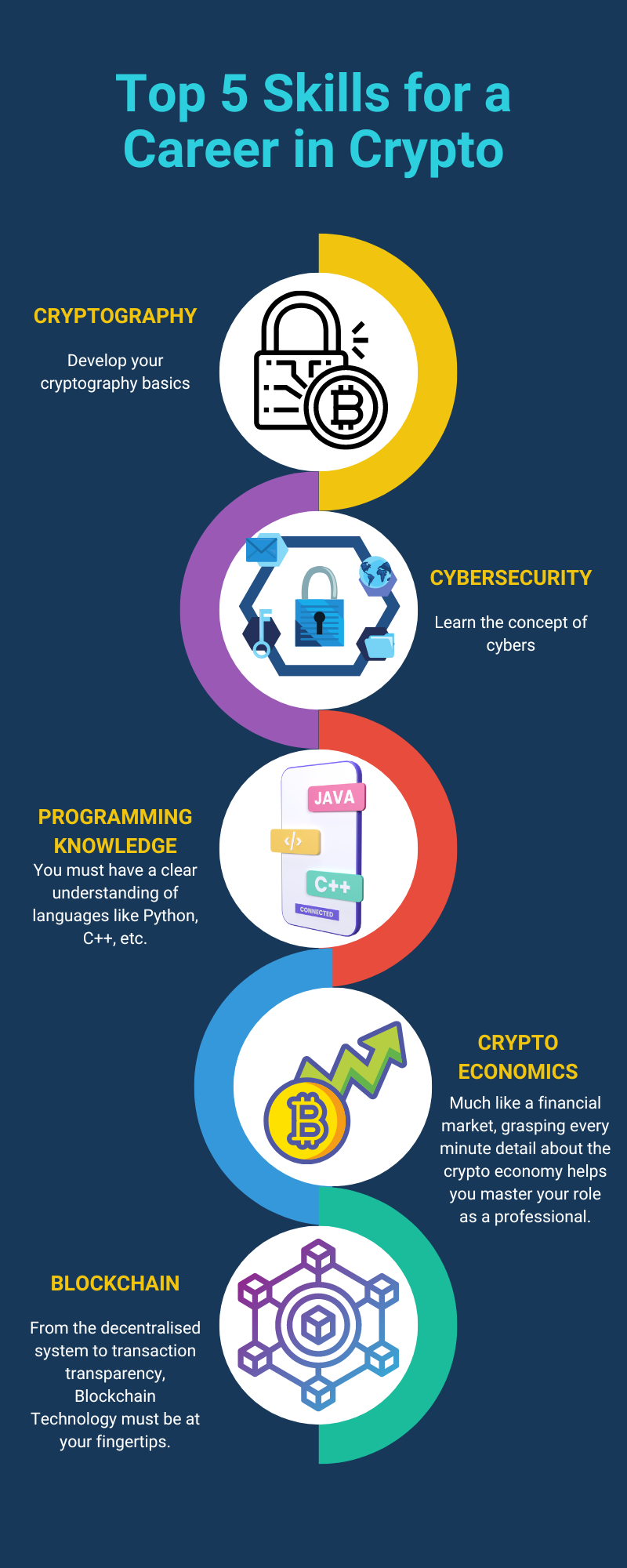 Assess 'em skills!
Once you've got a hang of the technical skills you need for a career in Cryptocurrency, it's time for you to sit and analyse the ones you've developed.
Now, most Crypto careers are based on the concept of STEM (Science, Technology, Engineering, Mathematics). If you don't have all of them, it's far from a matter of worry.
Let's understand with an example— say, you have writing skills, and a fair idea of the technical aspect of Cryptocurrency. You can choose to become a technical writer for Crypto firms!
Get some expert advice!
Networking is a winning move in this industry! If you're still struggling with getting started, the best way is by connecting with experts and getting a good B-T-S of what goes on in a professional's life.
Revamp that resume!
Here's where the drill begins— create your resume. It is essential to include all the relevant work experience and technical skills to present a standout resume before a recruiter. Can't seem to revamp your resume to match the needs of the industry? Check out the Mentoria Solution to 
What Kind of Roles Can I Take Up?
Now that you know all the top tips to build a career in crypto, let's check out the different types of roles you can take up:
The Tech Expert's Dream
If you're a tech expert and have prior experience in areas like coding, artificial intelligence, machine learning, blockchain or programming, you can take up advanced technical roles in the Crypto industry.
Some of these roles are blockchain developer, solidity developer, blockchain engineer, UI/UX designer, data analyst, blockchain consultant, software engineer, security architect, quality manager, etc.   
Blockchain Developer/Engineer/Consultant
Blockchain developers are professionals tasked with designing protocols, constructing smart contracts, and implementing decentralised applications. As a blockchain developer, you can earn between INR 2.4 lakhs to INR 21.5 lakhs.
Solidity Developer
A solidity developer works in tandem with blockchain experts and contributes to the building of applications, most often Ethereum-based. They also communicate with users, conduct surveys for better product development and deploy smart contracts. As a solidity developer, you can earn an average annual salary of INR 10 lakhs.
UI/UX Designer
In the simplest of terms, a UI/UX designer's role is to deploy user-friendly forums or interfaces that allow customers to use complex technology that would otherwise be tough to operate. As a UI/UX designer, you can expect an average salary of INR 6.8 lakhs.
Security Architect
As the name suggests, a cybersecurity architect designs, creates, and maintains security systems in organisations' IT networks. This includes all the data and computers. Therefore, they are responsible for safeguarding security on various networks. A security architect earns an average annual salary of INR 24 lakhs.
Quality Manager
A quality manager reviews customer feedback, understands customer demands, and manages production waste and improves efficiency in different manufacturing processes. As a quality manager, you can earn an average annual salary of INR 8.4 lakhs.
There's Something for Everyone!
If you don't have a background in Computer Science or Technology, fret not! You can still make it big in this industry by using other skills like marketing, communication, content curation, innovation and entrepreneurship.
From a marketing manager to content creator, non-tech opportunities run free in this industry!
Is this Industry Here to Stay?
YES! Crypto is here, and here to stay! What's more, this industry is expected to grow by over 100% by 2028! 
This means— the demand for jobs in Crypto is set to increase!
This also indicates that due to the scarcity of crypto experts, recruiters will be actively on the lookout for people who can transform or add value to the industry!
Get #CryptoCareerReady with Mentoria!
Are you passionate about cryptocurrency or blockchain technology? A career in this field might just showcase your true potential to the world!
If you've gone through this blog and are super pumped to get started, come speak to India's best career experts at Mentoria— who mentor you all the way up the success ladder! 
Take the Mentoria Assessment and begin your #CryptoCareerReady journey with Mentoria!