Eight Careers You Can Explore with a Degree in Philosophy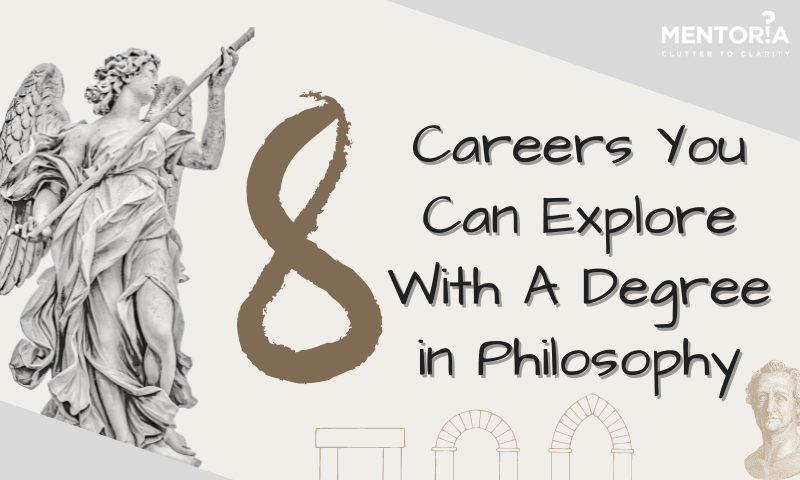 ---
---
"The unexamined life is not worth living." –Socrates. 
"Opinion is the medium between knowledge and ignorance." –Plato
Do you find yourself getting intrigued by these quotes? Are you interested in finding answers to life's big questions like your higher purpose, real happiness, or the meaning of existence? Then, let me tell you, philosophy might just be your true calling! 
Philosophy is usually considered to be a subject with no practical value. However, over the years, this field has grown in popularity (even though at a slow pace) and the aim of this subject is to now make things more lucid and rational, to respect subjective differences and have discussions on things that really matter. 
If you are interested in qualitative discussions, this is a great subject for you. Find out how to make a career in philosophy with Mentoria! As Plato said, "If a man neglects education, he walks lame to the end of his life."
Can You Become the Next Socrates?
What is the difference between good and evil? What essentially is time? What distinguishes us as humans? What is the relationship between the brain and the mind? Philosophy will help you explore these questions.
Philosophy is known as a subject that will make you analyse your everyday mundane tasks and look at things from multiple perspectives. However, you should only choose philosophy if you are truly passionate about it and not just for a professional degree. As a philosophy student, you can specialise in a variety of areas. 
You can take up philosophy as a subject after the 12th grade. You could enroll for a  Bachelor of Arts in Philosophy and  a Masters of Arts in Philosophy once you're done graduating. 
The bachelor's course lasts three years and is offered on a merit basis, with the cut-off varying from college to college. However, anything higher than 80% will get you into a good college that offers Bachelors in Philosophy. Most Indian colleges charge around 10,000-15,000 for a bachelor's degree over the course of three years. The fee structure mostly depends on the college you choose. 
Some of the best colleges that offer this course are:
Is Philosophy A Good Career Choice? Let's Find Out!
The study of philosophy is not new, but many students were discouraged from pursuing it as their primary field of study in the past due to a lack of job opportunities. However, things are starting to change.
Pros Of A Career In Philosophy
Philosophy can help you become a more confident and innovative thinker.
It improves your critical thinking skills, and teaches you how to debate and speak in front of large groups.
You get to know about different perspectives and get to work with creative people. 
If this seems too good to be true, let's look at some drawbacks.
Cons of a Career in Philosophy
There is a lack of practical skills and abilities you can use in your career.
Because of the dictatorship of scientism in modern society, society tends to look down on philosophy.
Scope of Philosophy in India
Despite popular belief, philosophy students have bright job prospects.
With a BA or MA in Philosophy, you can go on to study journalism, law, social work, or labor welfare. Students who have completed philosophical research can pursue teaching positions in research institutes, universities, and colleges. Philosophy graduates can also work as advisors, lobbyists, human resource specialists, and so on. A degree in philosophy also sets you up for a career in law or civil service.
Job Opportunities After A Degree In Philosophy
After earning a degree in philosophy, you can teach the subject to students from elementary school to high school. 
Professors may teach college courses as well as to conduct research and publish scholarly books and articles. They plan lectures, seminars, and syllabuses for university students in their field of study. They must be able to manage their teaching and research responsibilities. This just means that you need to do your B.Ed course but having a degree in philosophy will give you an upper hand.
2. Marketing Consultant
A bachelor's degree in advertising, philosophy, business, communications, or another relevant field is required for marketing consultants. They conduct market research, devise strategies, and serve as the primary point of contact between an organisation and its current and prospective customers.
The majority of consultants are employed by huge consulting firms that switch between projects every few weeks or months. Students majoring in philosophy opt for this because they are able to swiftly learn about new businesses and regularly change environments thanks to their adaptability and innovative skills.
3. Writer/Publisher
Philosophy majors don't necessarily get a job in the philosophy field. They experiment with various interests until they find something that sticks. A writer understands that making a living as a writer necessitates an entrepreneurial spirit and a commitment to flexibility. 
Many people with a background in philosophy work in the publishing industry. The high demand for Philosophy graduates opens up a variety of career opportunities in this field.
4. Reporter/ Journalist
Because of their writing and communication skills, as well as their ability to think deeply about prejudices, perspectives, and sources of information, philosophy majors are well suited for these jobs. Beginning in philosophy is a safe bet for aspiring journalists.
5. Legal Specialist
Philosophy majors frequently become lawyers because they possess many of the necessary skills such as good writing, debating and taking a position on an argument, untangling various problems, and much more.
If you do not want to attend law school, you could consider becoming a paralegal, who assists lawyers in their work by conducting extensive research.
6. Research Consultant
Companies hire research consultants to conduct and analyse specific research related to their industry. Their job is to find answers to questions or problems that a company or client may have. They must collect, analyse, and present data in an understandable manner. Philosophy major gives you a good background when it comes to analysing data.
7. Political Scientist
Philosophy majors are ideal candidates for careers in political science. The analytical skills developed by philosophy majors are precisely what is required in the field of political science.
8. Social worker
Students who major in philosophy are well-prepared for any employment that requires making challenging moral decisions and comparative assessments. 
They are frequently suited for employment in college and university administrations, such as in admissions, or in large foundations or other non-profit organizations that support various social issues because of this.
Let's Talk Money
A philosophy graduate's starting salary in the fields of public service, research and journalism is usually around 10,000 – 15,000 per month, but it rises with time and experience.
Private firms that hire philosophy graduates as HR typically pay a starting salary between 20,000 and 25,000 per month. It all depends on your position and the firm. 
Make A Smart Move!
If you love to think and have an opinion on everything under the sun, this might just be the right course for you. If you are still not sure or would like to explore more options, sign up with Mentoria to discover the right career fit for you out of the 12,000+ career avenues. We've created India's most reliable psychometric assessment to measure your interest, personality and abilities, and determine which career paths are best suited for you. This is further validated through one-on-one sessions with our career counsellors, who will enable you to shortlist your top three careers. And our guidance doesn't just end there! We continue to support you in your #CareerReady journey with lifetime access to our Knowledge Gateway, career webinars by experts from your chosen industry and a dedicated career helpline where you can share your queries. What are you waiting for? Sign up now and answer one of life's biggest questions – are you truly meant for a career in philosophy?