Excel 101: The Top 8 Beginner-Level Courses To Master In 2023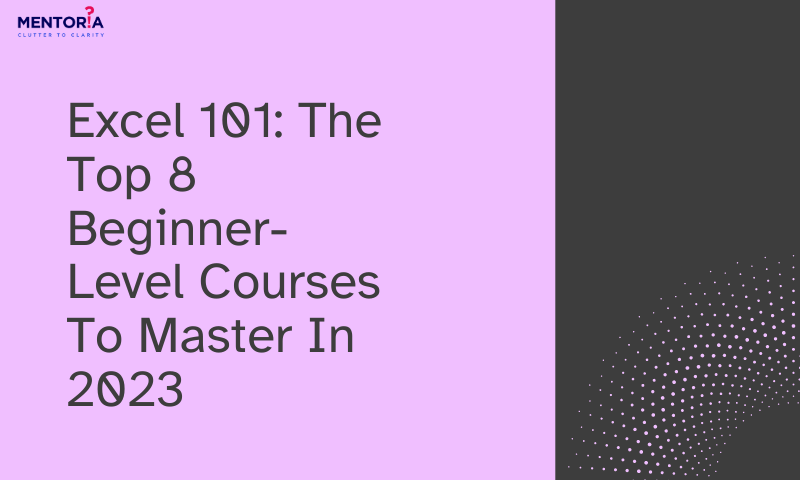 ---
---
If you've ever gazed at an Excel spreadsheet with a mixture of awe and confusion, wondering how those rows and columns can hold the keys to data-driven magic, then you're in the right place. In this digital age, Excel skills are like a secret superpower for anyone looking to navigate the world of numbers, whether you're a student, professional, or just someone who wants to conquer their personal finance spreadsheets like a pro. So, if you're ready to unlock the potential of Excel and elevate your data game, join us as we explore the courses that will transform you from an Excel novice into a spreadsheet pro.
Top 8 Courses
Imagine a course that takes you from an Excel novice to a proficient user, all at your own pace. Kyle Pew's "Excel from Beginner to Advanced" course on Udemy does exactly that.  This course is priced at ₹3,199. With a friendly and approachable teaching style, Kyle makes complex Excel concepts feel like a breeze. This course covers everything from basic functions to advanced techniques, and you'll even tackle real-world projects along the way. With lifetime access and regular updates, you can keep up with the latest Excel features. Whether you're a student, professional, or just someone looking to enhance their skills, this course provides the foundation you need to conquer Excel.
Alan Jarvis presents a comprehensive Excel course on Udemy, divided into three levels. Starting with Level 1, you'll build a strong foundation in Excel basics. Alan's clear and concise explanations make learning Excel a joyful experience. As you progress to Levels 2 and 3, you'll delve into more advanced topics, including data analysis, formula mastery, and creating impressive charts. The hands-on exercises and quizzes ensure that you grasp each concept thoroughly. Upon completion, you'll have gained a versatile skill set that can boost your career in various fields. This course is priced at ₹3,199.
Are you tired of Excel courses that feel like dry tutorials? Oz du Soleil's "Excel in the Real World" course on LinkedIn Learning is here to change that. Oz brings Excel to life by focusing on practical, everyday applications. Three-level course covering Excel basics, intermediate, and advanced topics with video lectures, hands-on exercises, and quizzes. You'll learn how to tackle real-world Excel tasks with ease, from creating impressive reports to managing data efficiently.  This course is priced at ₹899.99. Oz's engaging teaching style and emphasis on real-world scenarios make this course perfect for beginners looking to make Excel an integral part of their daily lives. It is meant for beginners and intermediate users who want to become proficient in Excel.
If you aspire to become a business analyst, Macquarie University's free edX course is a fantastic starting point. This course not only equips you with essential Excel skills but also provides insights into the world of business analytics. With expert instructors guiding you through various Excel techniques, you'll learn how to perform financial modelling, create insightful reports, and make data-driven decisions. Plus, upon completion, you'll receive a valuable certification to enhance your resume. Moreover, this course is completely free. 
PivotTables are the unsung heroes of Excel, and Chris Dutton's course on LinkedIn Learning is your ticket to mastering them. In "Excel Data Analysis: PivotTables & PivotCharts," Chris takes a deep dive into these powerful features, showing you how to transform raw data into meaningful insights. With hands-on exercises, you'll learn how to create dynamic reports and interactive charts that make complex data digestible. This course is priced at ₹3,199. Whether you're a beginner or seeking to sharpen your data analysis skills, this course will make you a PivotTable pro in no time.
This course from coursera by Rice University is designed to provide learners with the foundational skills and knowledge required for data analysis using Microsoft Excel. It is structured to provide learners with a step-by-step introduction to data analysis concepts and practical Excel skills. The course covers a range of essential topics related to data analysis using Excel. Overall, it is an excellent starting point for individuals looking to gain foundational skills in data analysis and Excel. It provides a structured and practical approach to learning that can be beneficial for both beginners and those seeking to enhance their data analysis capabilities. And the best part is that it is free. 
Finance enthusiasts, this one's for you! The FMVA certification offered by the Corporate Finance Institute includes an extensive Excel component that's vital for financial modelling and valuation. While not a traditional course, this certification covers Excel skills that are crucial for careers in finance, investment banking, and corporate finance. You'll gain expertise in financial modelling, forecasting, and valuation, all with Excel as your trusty tool.
Ready to take Excel to the next level with automation? Daniel Strong's "Excel VBA for Beginners" course on Udemy introduces you to Excel VBA (Visual Basic for Applications). VBA is the key to automating repetitive tasks in Excel, saving you valuable time. This course is priced at ₹799. Daniel's beginner-friendly approach makes learning VBA accessible even if you have no prior coding experience. By the end of this course, you'll be creating macros, custom functions, and automating complex tasks with confidence.
Elevate Your Skills With Mentoria
These top 8 courses for Excel beginner-level in 2023 are your stepping stones to mastering this indispensable tool for data analysis and productivity. Whether you're looking to boost your job prospects, streamline your work, or simply enhance your skills, these courses offer a comprehensive and beginner-friendly approach to Excel.
And if you're seeking personalised guidance and support on your learning journey, consider Mentoria. Our team of experienced mentors and tailored courses can provide you with the hands-on assistance you need to excel in Excel. With Mentoria, you'll not only learn the basics but also gain practical insights and real-world applications, setting you on the path to becoming an Excel pro.