Here's Your Guide to Starting Your Own Graphic Design Business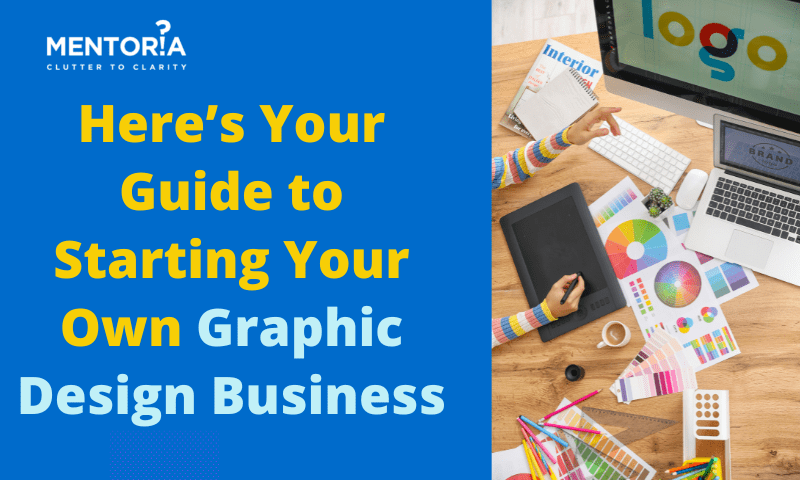 ---
---
Are you a graphic designer looking to take your career to the next level? Starting your own graphic design business could be the perfect way to do it. With the right tools, knowledge, and determination, you can turn your passion for design into a successful business. This guide will provide you with all the information you need to get started on your journey. From creating a business plan and finding clients, to marketing yourself and pricing your services – we'll cover it all!
For any designer who has never run their own business, let alone taken on any freelancing graphic design work, working out where to begin is by far the most difficult part.
We're offering a comprehensive checklist of everything you need to do and take into account when launching your freelance design business from scratch in order to help you position yourself for success.
All you Need to Know About Starting a Freelance Graphic Design Business!
How can you Become a Graphic Designer?
A bachelor's degree in graphic design is sometimes necessary for employment as a graphic designer, but a growing number of people are self-taught too. Designers should enrol in art and design schools as well as courses in related subjects, like web design and printing processes, to hone their artistic abilities.
How to Define Your Business
Before you launch your business, define your objective and unique selling point or USP. Why should businesses choose your services over other graphic designers? Which field or niche will you specialise in? Would you build brand identities or marketing communication? Social media posts or product designs? Websites or apps? Will you only offer designing services or some amount of copywriting and animation services as well? Would you be working as an independent freelancer or have a small team of people working for you?
Before you begin to look for freelance graphic design jobs, there are many things to think about like your niche, the capital and investment, budget etc. But if you don't have a clear idea of what your company will be, you could get overwhelmed by all the other choices you have to make when starting off.
What's your Niche?
The process of developing your freelance design business includes choosing a niche. Although not every freelancer chooses a certain expertise, you'll discover that narrowing your focus can help you locate the ideal clients. Take on all kinds of projects while just starting out, figure out which ones you like the most and use that experience to build your niche. Then you can go about acquiring clients in that niche.
You might decide on a niche based on the brands you wish to partner with—fun, young, sophisticated, or related brands. If you're not sure where to begin, decide which aspects of graphic design you are most comfortable with, then focus on those.
Who is your Ideal Client?
It's a good idea to focus even more on your target clientele after choosing your niche to get a better notion of who they are. Do you prefer to collaborate with established companies or new ventures? Do you prefer to collaborate with larger or smaller businesses? Perhaps you wish to focus on helping nonprofit organisations or companies with social missions. Spend some time considering the types of companies you wish to collaborate with. At the beginning, you should build an ideal client list, network with relevant people on platforms like LinkedIn, work with a variety of people to understand what works and what doesn't, and accordingly set expectations and preferences.
Did you get an Expert Opinion?
You're an expert designer. However, it's unlikely that you are also an expert in business, law, or accountancy. Many areas provide no-cost or affordable business development centres that may put you in touch with knowledgeable advisors for issues like how to set up your company's legal structure or financial matters.
As a freelance graphic designer, you should be aware of the GST requirements for your business. The first step is to know if your activities fall under the OIDAR category. OIDAR stands for Online Information Database Access and Retrieval. The activities of a freelancer are not limited by regional restrictions. As a freelancer, you will definitely have clients all over the country. As per law, if your services span over state boundaries, you must register under the GST Act.
What's your Capital and Budget?
If you're beginning your freelance graphic design venture as a side hustle, you may not have to plunge into this step as intensely as if you're embarking full-time. However, you still need to have a general idea of your own financial situation and the future state of your company's finances.
Make sure you have a budget for yourself. Know your monthly expenses and where your money goes. It would be wise to consider where you can make savings at this time. Minimising your costs will help you start a new company on a more stable financial footing.
First, start off as a side hustle until you're making enough money to sustain this as a full-time option. Then ensure you have 'retainer' clients on board so you're getting paid on a monthly basis, as freelance projects can have differing compensation structures. Budget for additional resources in a way where you're paying them fairly while also making enough profits to sustain your business. Lastly, create monthly, quarterly and yearly goals for your business as it will help you plan how/when/how much to scale.
How can you Market Yourself?
Once you've got a business plan in place, it's time to start marketing your services! Many independent graphic designers use social media as their go-to  platform for marketing their services. But be careful not to overcommit yourself on social media. Choose a few sites that you wish to concentrate on. Consider where your target market spends time online. It could be on Behance, LinkedIn, or another platform.
Make sure to keep your images and messaging consistent throughout all of your social media activity. Establish a web page or a profile on Behance and start posting regularly. Gaining a following on social media requires consistency. Make sure your bio states that you're available for hire and has contact information.
Get Help from Mentoria!
Wondering if the graphic design business is a good fit for you? We're here to provide you with all the help! Kick-start your career discovery journey with Mentoria and discover the right career fit for you. Feel free to call us to speak to our career mentors and choose the right career guidance plan that suits your needs.
Mentoria's career guidance programme enables you to choose your perfect fit from 3 streams, 850+ courses, and 12,000+ careers, and discover what will bring out the best in you.