IIT Bombay Placements: Unveiling The B.Tech Journey Of Dreams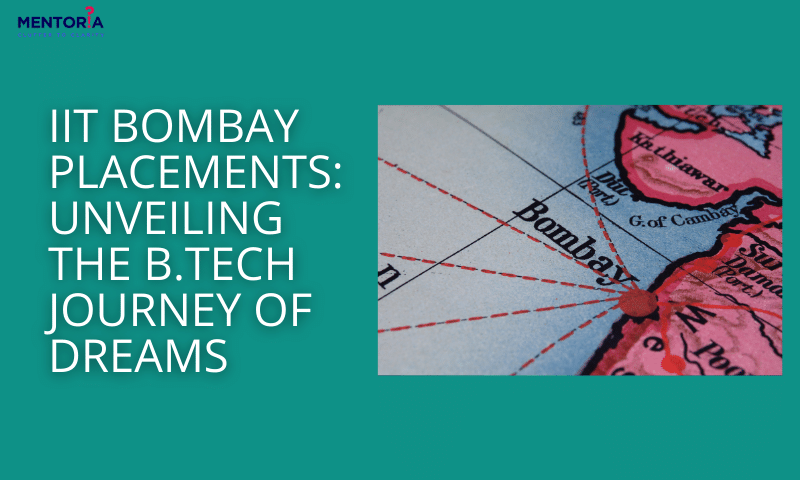 ---
---
In this blog, we delve into the journey that engineering students undertake as they navigate the world of placements within this esteemed institution. IIT Bombay, renowned for its technical prowess and academic excellence, sets the stage for a professional journey that can shape careers and aspirations. From the rigorous academic regimen to the expectations of recruiters, we aim to provide a transparent understanding of what it takes to secure a coveted position post-graduation. Our objective is to offer insights that will guide aspiring engineers, enabling them to make informed decisions and approach their placement journey with clarity and determination. Beyond the lecture halls, the anticipation of placements paints the canvas of excitement, promising lucrative salaries and diverse opportunities. The tale of IIT Bombay placements is a fascinating voyage through numbers and narratives, revealing the grandeur of possibilities and the promise of a brilliant future.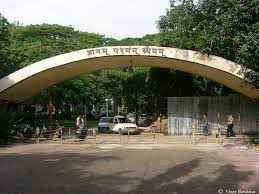 A Journey Begins: The IIT Bombay Experience
Your journey at IIT Bombay begins amidst an intellectually charged atmosphere, vibrant with collaborative energy. It's not just a college; it's a culture of growth. You'll find yourself surrounded by brilliant minds and supportive peers, fostering an environment where curiosity thrives. Professors become mentors, and every lecture is a gateway to new insights. The campus is an ecosystem where ideas come to life, and passion fuels innovation. Every step you take here is a stride towards shaping a promising future, both academically and personally. Over 1.1 million students applied for JEE Advanced in 2020, aiming for a seat in prestigious IITs like IIT Bombay. It's not just a B.Tech pursuit; it's a transformative odyssey that prepares you for the adventure called life.
The Grand Stage: Placements At IIT Bombay
Picture a grand stage, and you at its centre, showcasing your talents to the world. That's what the placement season at IIT Bombay feels like. It's a culmination of years of hard work, a chance to exhibit your skills and potential to top-notch recruiters. The atmosphere crackles with anticipation and determination. The institute brings industry giants to your doorstep, offering a platform to leap into the professional world. IIT Bombay saw an impressive placement season, with over 1,200 offers made to B.Tech students for the graduating batch in 2022. The placements aren't just about securing a job; they're about embarking on a career that echoes your aspirations.
Cracking The Code: IIT Bombay B.Tech Salaries
As you stand on the verge of stepping into your professional life, the allure of a decent salary awaits. IIT Bombay doesn't disappoint in this aspect. The average salary for B.Tech graduates here often exceeds expectations, giving you financial stability right from the start. It's not just about numbers; it's about having the means to chase your dreams and carve your niche in the world. The impressive salaries reflect the value the industry places on the education and skills you've honed during your stint at IIT Bombay.
Average Salary:

The average annual salary for B.Tech graduates at IIT Bombay ranges between 15-20 lakhs INR.

Highest Salary:

The highest salary offered during placements at IIT Bombay can reach up to 1.5-2 crores INR per annum.

Median Salary:

The median salary typically falls between 12-14 lakhs INR annually.
The Tale Of Placements: A Journey Through The Years
The tale of placements at IIT Bombay is a saga of consistent triumphs. Year after year, the institute achieves new milestones, showcasing an unwavering commitment to student success. The placement process evolves, adapting to the changing dynamics of the industry. It's not just a story of securing placements; it's about fostering an environment where dreams take flight. Each placement season adds a chapter to this tale, portraying growth, resilience, and the spirit of innovation. Over the years, IIT Bombay has consistently maintained a high placement record, with more than 300 companies participating and recruiting from diverse disciplines.
Placement Rate: IIT Bombay maintains an impressive placement rate, often exceeding 90%, showcasing the institution's effectiveness in facilitating job opportunities.
Top Recruiters: Some of the top recruiters at IIT Bombay include companies like Google, Microsoft, Apple, Tata Consultancy Services (TCS), and McKinsey & Company, among many others.
Internship Opportunities: Students often secure internships with renowned organisations during their academic tenure, providing a stepping stone to final placements.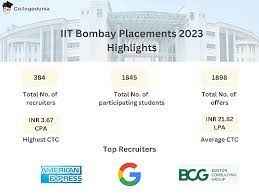 Beyond The Numbers: Diverse Opportunities
The opportunities that IIT Bombay opens up for you extend far beyond just the monetary aspects. It's about the diverse avenues that unfold before you. Whether you're inclined towards research, entrepreneurship, or corporate endeavours, there's a niche for everyone. The institute provides a platform to align your passions with your profession. It's a realm where you can explore, experiment, and find the perfect fit for your aspirations. The plethora of choices ensures that your journey post-IIT Bombay is as unique as you are.
Alumni Tales: Where Dreams Take Flight
Imagine a world where your dreams take flight, guided by the footsteps of illustrious alumni. The success stories of those who once walked these very halls inspire and motivate. Conversations with alumni reveal a plethora of possibilities and pathways. They share their experiences, struggles, and triumphs, giving you a glimpse of what lies ahead. It's a testament that the legacy of IIT Bombay doesn't end at graduation; it's a torch passed down through generations, lighting the way for aspiring minds. 
R. Narayana Murthy:

A co-founder of Infosys, N. R. Narayana Murthy is an IIT Bombay alumnus known for his pioneering contributions to the Indian IT industry.

Radhakrishnan:

The former Chairman of the Indian Space Research Organisation (ISRO), K. Radhakrishnan is an alumnus of IIT Bombay, renowned for his leadership in space exploration.
Arvind Krishna: Arvind Krishna, the Chairman and CEO of IBM, is an esteemed alumnus of IIT Bombay, making significant strides in the field of technology and innovation.
R. Narayana Murthy: A co-founder of Infosys, N. R. Narayana Murthy is an IIT Bombay alumnus known for his pioneering contributions to the Indian IT industry.
Raghuram Rajan: Raghuram Rajan, the former RBI Governor and a distinguished economist, is also an alumnus of IIT Bombay, showcasing the diverse success paths that graduates can embark upon.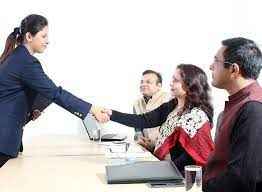 Nurturing Excellence: The IIT Bombay Legacy
The legacy of IIT Bombay is an amalgamation of knowledge, perseverance, and an unyielding spirit. It's a legacy built by the hard work and dedication of countless individuals who have graced its halls. The institute nurtures not only academic excellence but also a sense of responsibility towards society. It instils values that extend beyond the professional realm, shaping you into a well-rounded individual. The IIT Bombay legacy is a beacon, guiding you as you step into the world, empowering you to make a difference, and urging you to carry forward the torch of excellence.
So, as you venture into the domain of IIT Bombay placements, envision a future that's waiting to be shaped by your passion and the platform that IIT Bombay provides. It's not just a stepping stone; it's a launching pad into a world brimming with possibilities. Embrace it, for this journey is yours to create and relish.
With every line of code and every project completed, you're sculpting your own saga, painting your story on the canvas of IIT Bombay's legacy. Dream big, work hard, and let the world be your playground. The stage is set, and the spotlight awaits—break a leg!
We're here to provide you with all the help! Kick-start your journey with Mentoria and discover the right fit for you. Feel free to call us to speak to our career mentors and choose the right guidance plan that suits your needs.
Mentoria's career guidance programme enables you to choose your perfect fit from 3 streams, 850+ courses, and 12,000+ careers, and discover what will bring out the best in you.