IT Vs CS: Everything You Need to Know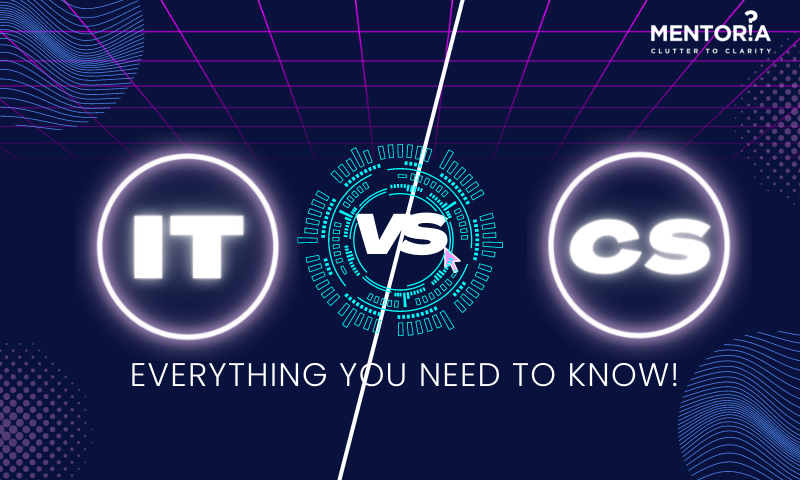 ---
---
Are you enthusiastic about technology as a whole and you're thinking about a profession in this field? But you've reached a crossroads and are unable to decide between computer science (CS) and information technology (IT)?
There are others besides you. This is among the most commonly asked questions on the web. This is due to the frequent interchange of these terms. However, they are not at all the same. Computer science and information technology are two distinct fields with distinct goals and intended student populations.
Join us as we go into great detail about the key distinctions between IT and Computer Science. By the end, we hope you'll know which one is the correct choice for your educational studies.
IT Vs Computer Science – What's the Difference?
The practical implementation of technology is information technology. Most companies have a group of IT specialists in charge of looking after their IT assets and infrastructure. Whether computers, networks, and systems are utilised by individuals at home, large corporations, hospitals, governments, and other institutions, IT experts ensure their proper operation.
Information technology and computer science are distinct because computer scientists create and develop the software that IT specialists use and operate.
The study of programming and coding is known as computer science. Your first step toward a job in coding or computer programming will be to earn a degree in computer science. You will have a solid grasp of the concepts behind the procedures involved in developing computer programmes and applications.
The computational principles that form the cornerstone of every software we use were developed by computer scientists. They are responsible for data storage and transit, encryption, and security protocols, among other things.
IT Vs CS: What are the Specialisations?
Information Technology (IT) 
Computer Science 
IT Vs CS: What are the Different Careers?
Information Technology
Technical Support Specialist
A tech support expert is generally an entry-level role within the information technology sector. They are responsible for demonstrating a solid understanding of technology in order to assist clients with software and hardware problems and inform them of current technological trends.
An IT project manager is in charge of creating and carrying out the technological objectives of a corporation.
Network Engineer
To maintain online efficiency, a network engineer manages a company's computer and network equipment.
IT Consultant
An IT consultant offers clients technical guidance to suit and enhance their work environments, whether they work for a consultancy company or on their own.
Computer Science
The creation of new software and the upgrading of existing software used on computers and other devices fall within the purview of a software engineer.
Information Security Analyst
An information security analyst guards against and spots online dangers to data and personal information for businesses.
A database administrator is responsible for managing a company's database, safeguarding it from threats, carrying out essential upgrades, and maintaining the database as a whole to ensure the organisation functions efficiently.
Computer Hardware Engineer
The physical hardware required for computers and other devices to function is researched, designed, repaired, and updated by a computer hardware engineer.
IT Vs CS: What is the Scope and Salaries?
It makes no difference whether you select information technology or computer science in terms of employment and pay. Given the increasing demand for workers with strong computer and digital abilities, both industries are suffering from a lack of educated specialists. The average salary of an amateur IT worker is between INR 8-15 LPA.
The need for skilled workers is so great that major corporations like Google have started their own IT training programmes to get practically anyone ready to work in this industry. However, this does not imply that getting hired will be simple.
Not everybody can work in Computer Science or IT, particularly those who lack the minimum required skills and knowledge. The salary of a novice Computer Science graduate is between INR 10-16 LPA. 
You should take advantage of any internship or job placement chances while you are a student. Gain as much practical experience as you can, and keep in mind that if you don't keep up with the newest trends and technology, your career won't last very long as an IT or CS specialist.
IT Vs CS: Which is Better?
Since they lead to different jobs and have various specialisations or subfields, there is no such thing as "better." Both disciplines are excellent options for your studies, provided you have a strong interest in technology and are aware of what each study option entails.
You can be confident that you'll have a secure employment with either IT or Computer Science, as well as a significant pay that will only rise over time as you gain expertise. Keep in mind that you can earn more money by learning more.
Mentoria – Choose the Best Career Path For You!
Confused whether you should go for IT or CS? We're here to provide you with all the help! Kick-start your career discovery journey with Mentoria and discover the right career fit for you. Feel free to call us to speak to our career mentors and choose the right career guidance plan that suits your needs.
Mentoria's career guidance programme enables you to choose your perfect fit from 3 streams, 850+ courses, and 12,000+ careers, and discover what will bring out the best in you.