Get Future Ready: Build a Career in the Metaverse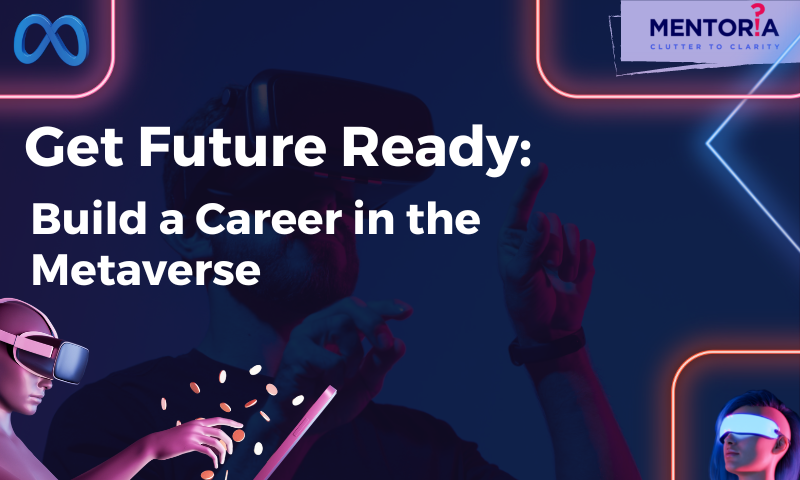 ---
---
Do you remember games like Jurassic World Alive and Pokémon Go? Well, if you thought that is as cool as the internet gets, check out the Metaverse— Meta/Facebook's newest baby, a 100% immersive virtual world that we can live in!
From people hosting virtual weddings to Indian singer Daler Mehndi buying a virtual land called "Balle Balle" on the Metaverse, the new generation of the Internet is here, and a raging success! 
So, while we play and interact on what seems like a fun new tech invention, have you thought about the work that will go into building and maintaining the platform further?
Yes, work! Hold that thought, because here are some future-ready careers that you can pursue in the Metaverse!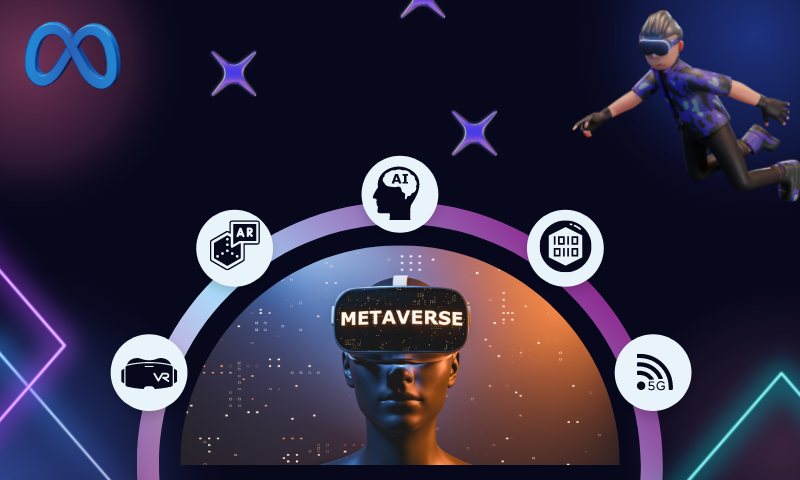 So, jobs in the Metaverse? How does that work?
Remember— technology and real estate alike, where we build, we need a workforce! While hundreds of Metaverse job roles are soon expected to be in popular demand, here's an overview of the kinds of careers you can pursue: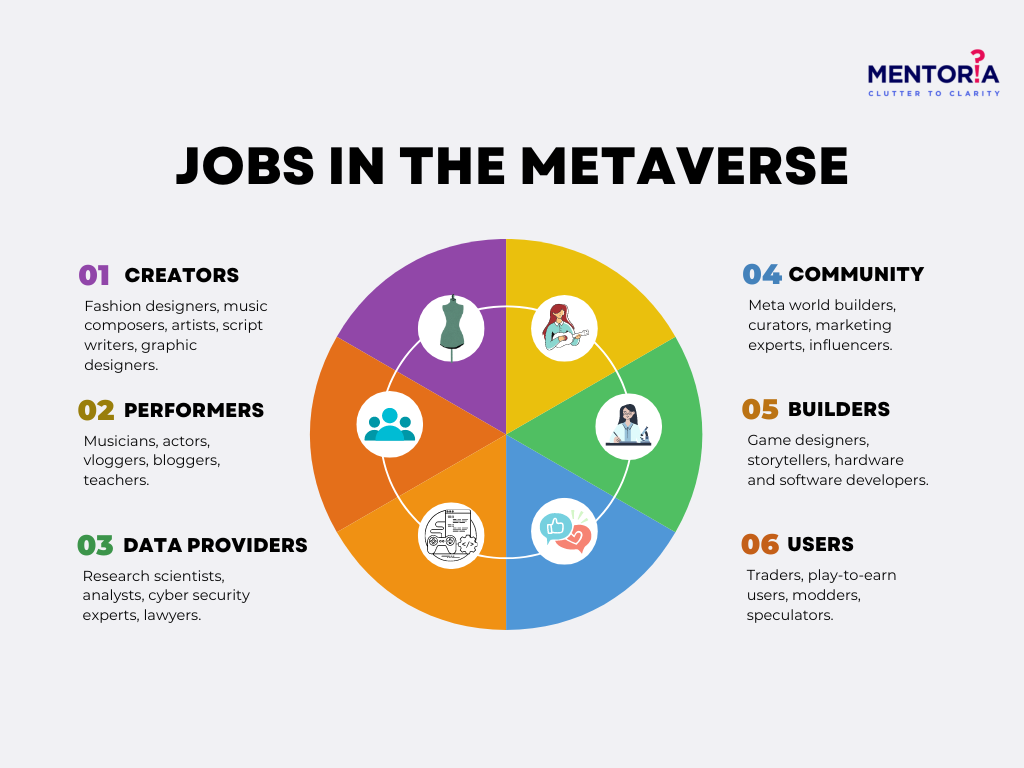 Exciting, right? 
Now that you know about the different areas you can consider, let's check out the coolest Metaverse jobs that will get your career growing in no time!
Metaverse Research Scientist
Augmented Reality (AR) and Virtual Reality (VR) are standard ivy-league research areas. However, a vast platform like the Metaverse will require dedicated research scientists who need to build and test several computational algorithms. 
Can't seem to get started? Try learning more about deep learning, AI, computer vision, computational imaging, computer graphics and languages like C++ and Python!
Metaverse Planner
Ideation is fun, but execution requires the actual legwork. As a planner, you need to identify business and market opportunities, strategise launches, develop metrics, and so much more.
If you're wondering the path to this, we'd recommend having management experience, a diverse knowledge of SaaS/PaaS/SW/HW marketing as well as an entrepreneurial approach. 
Ecosystem Developer
All the hardware and software in the world would be rendered useless if no one helps them connect. An ecosystem developer would be responsible for coordinating everything between governments, partners, users, developers, investors, and financial institutions.
Seems interesting? Make sure you understand the concepts of lobbying, XR (Extended Reality) and governmental negotiation.
Metaverse Safety Manager
Privacy. Risk of ID theft. IPR violations. Cyber attacks. PHEW.
With every new technological advancement, comes a sea of new risks that need to be mitigated. Well, a safety manager would be tasked to do just that!
Safety managers would advise developers at the nascent stage itself to avoid problems later on. 
For this role, it is imperative for you to have a degree in computer software engineering as well as some web development experience. 
Metaverse Hardware Builder 
While the Metaverse is as virtual as it gets, it won't just be functional on codes and algorithms. From headsets and sensors to cameras and lenses, hardware developers would be key to the meta workforce.
To pursue this career, you must be proficient in electronics and of course, be an experienced hardware engineer.
Metaverse Storyteller
Even if it's from the ever-resilient Zuckerberg, every new idea must sell. Stories? Well, stories are what sell everything from ideas and concepts to products and services. 
As a metaverse storyteller, you'll be required to prepare scripts and stories behind games, events, and more!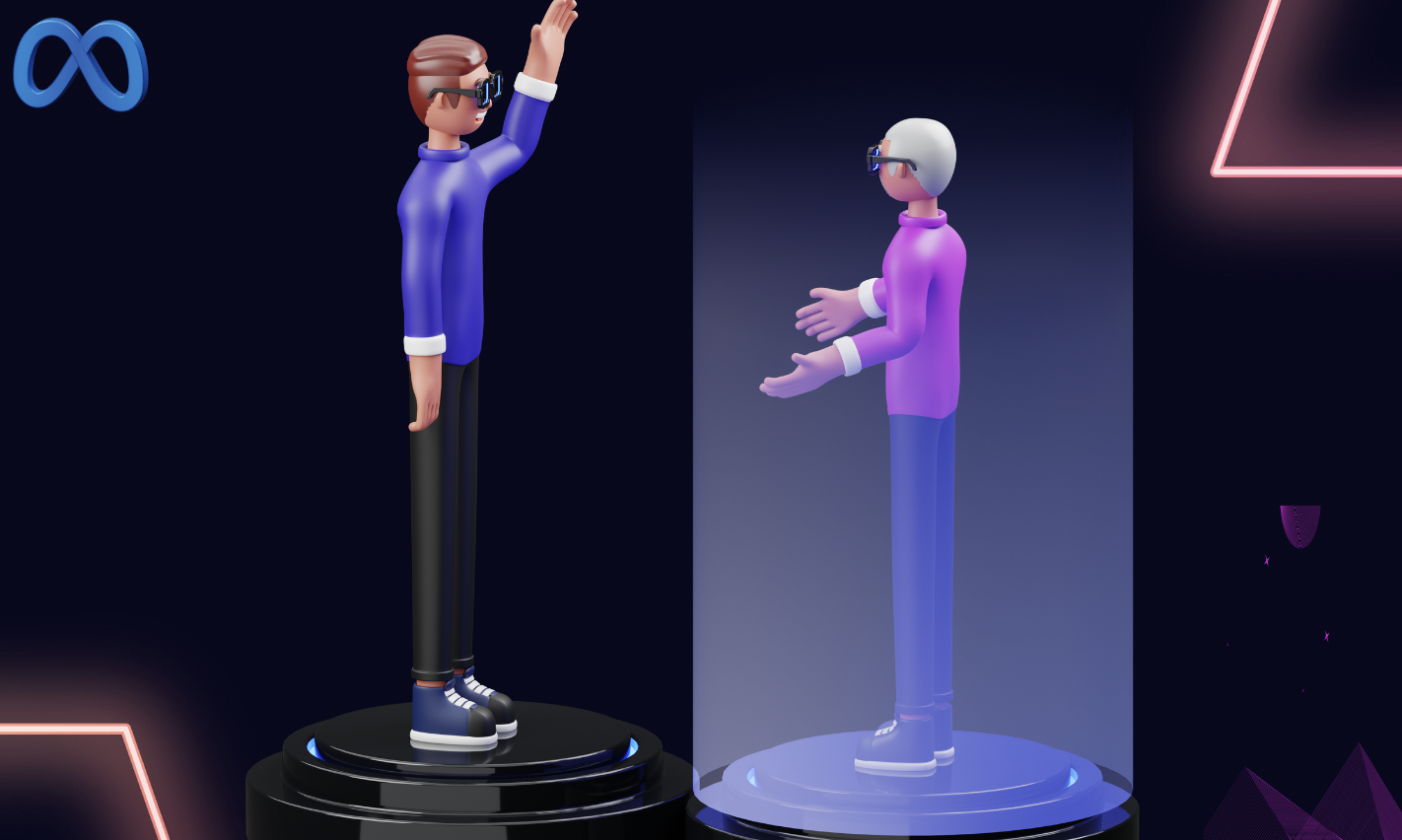 Like the sound of this role? Major in literature, start learning about creative writing and storytelling, and ta-da!
Bonus tip: Read, read, and read away! The more you read, the better your storytelling skills become!
World Builder
Once our software, hardware, and stories are ready, we need someone to compile these and execute them into reality. A world builder will work closely with game designers and developers to ensure a seamless Meta experience.
Here's what you need to get started in this career: graphic design skills, a gallon of coffee (just kidding), and coding skills (obviously)!
Ad-Blocking Expert
Has Instagram ever mysteriously sent you ads featuring a double cheese pizza or a Big Mac right when you were browsing through food-related posts? Now, imagine what Meta can do if you start to live in it!
Say you stare at a mall for too long, you might get shopping ads in a jiffy! Well, ad-blockers can make your stay at Meta easy by blocking ad pop-ups. 
All you need are basic coding and programming skills to pursue this role.
Metaverse Cyber Security
Hacking of avatars, sensors, NFT frauds and theft— there'd probably be no end to cyber security issues on the Metaverse. Here's where we'd need cyber security experts.
Top tip: Study or get certified in Cyber Law!
Meta Lawyer
If you've heard of Non-Fungible Tokens (NFTs), you'll know that lawyers are already the need of the hour. 
Now, the Metaverse brings with it whole new kinds of assets, which will need new legal statutes and rules to govern activities like selling, buying, and managing.
As a lawyer or an aspiring one, you can look at specialising in areas like trademark laws, cyber laws, tax laws on digital assets, and other intellectual property rights laws. 
So, millennial lawyers will have to work towards protecting clients' companies, intellectual properties, assets, and more on the Metaverse.
NFT Designer
Think you can work your way around graphics and illustrations? Well, you could become an NFT designer to create digital art! (Shh.. secret- this could make you tons of money!)
Here are some skills that will come in handy:
Animation, designing, sketching, digital drawing
Knowledge of 3D software like Autodesk Maya, 3Ds Max, Zbrush, C4D, Blender, MagicaVoxel, or Voxedit
3D Modeller
Yes, we've all watched the Avengers combat in 3D. It seems unreal and beyond exciting? Also, yes. 
So, if you're into intense animation and 3D graphic design, you could become a modeller.
You need to understand colour theory, graphic design, and computer programming to nail this career. 
Metaverse Game Designer
Dragons, treasure quests, military combat arenas— there'll be scope for it all!
If you like to game and understand coding and programming, this could be an exciting career for you! Of course, you'd need to learn languages like C++ and Python and also get certified in software like Blueprint Visual Scripting within Unreal Engine 4.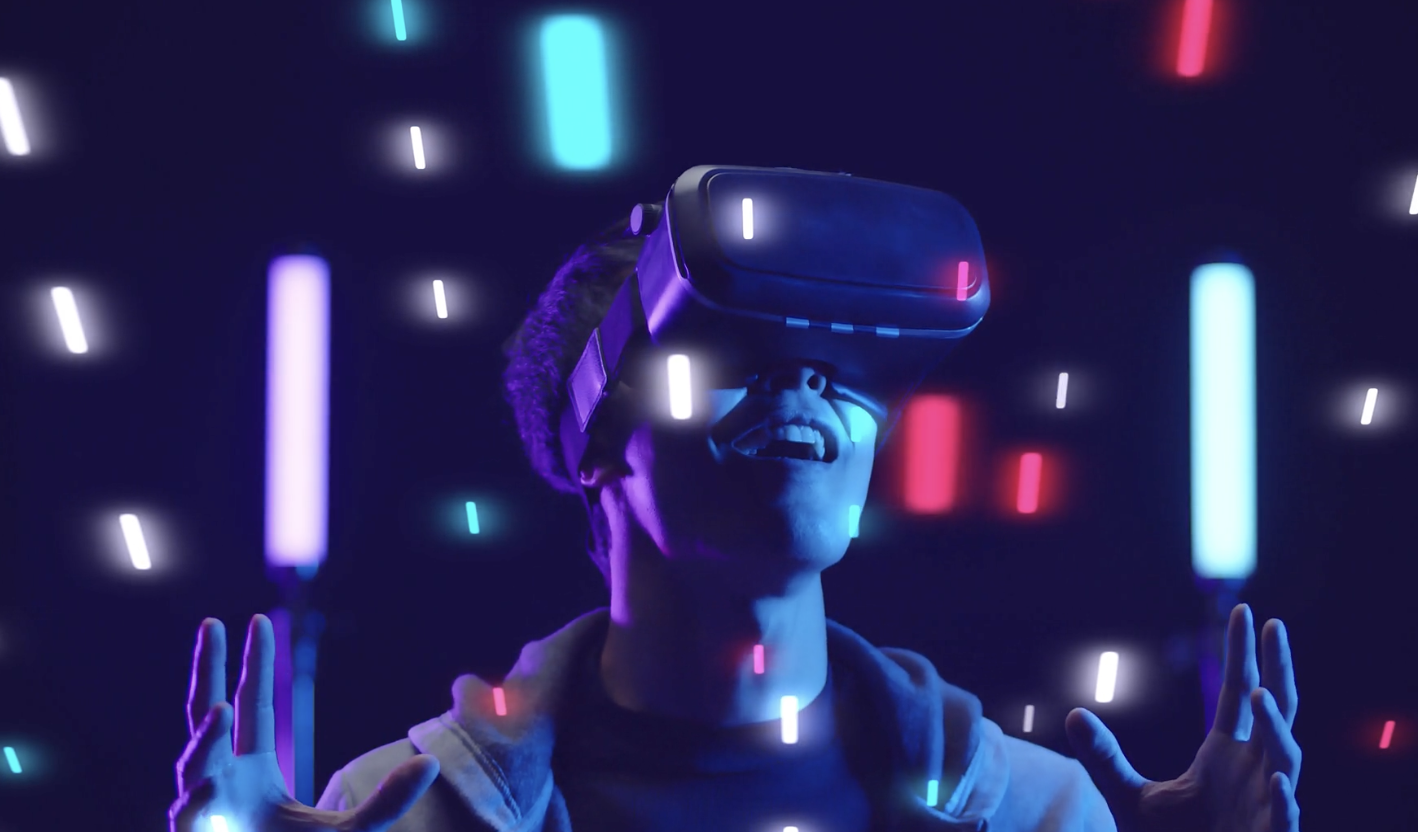 Metaverse Fashion Designer
Looking good and feelin' fine? Well, there's absolute truth to this iconic song by Lady Gaga. If you have avatars on the Metaverse, you'd need to glam 'em up!
For this, fashion designers are a must! Besides, what looks good virtually could also sell physically in stores!
Want to pursue this career? Make sure you know all about 3D execution, modelling, UV mapping, software like Cinema 4D, Adobe Creative Suite, design skills like typography, image making, and of course, knowledge of the latest fashion trends!
C'mon, pick up the latest Vogue issue if you must!
Metaverse Community and Social Media Managers
After storytellers, we need a bunch of people who are involved in the selling process that we spoke of a while ago.
From influencers and social media experts to marketing managers and customer relations specialists— come one, come all!
Tip Corner: You must be well-versed with all popular social media platforms and get certified in your area of interest.
Metaverse Event Directors
Tomorrowland and Coachella could well turn digital with the rising popularity of the Metaverse. Here's where event directors come into play. This role would require you to organise virtual fashion shows, museum exhibits, concerts, and even live games!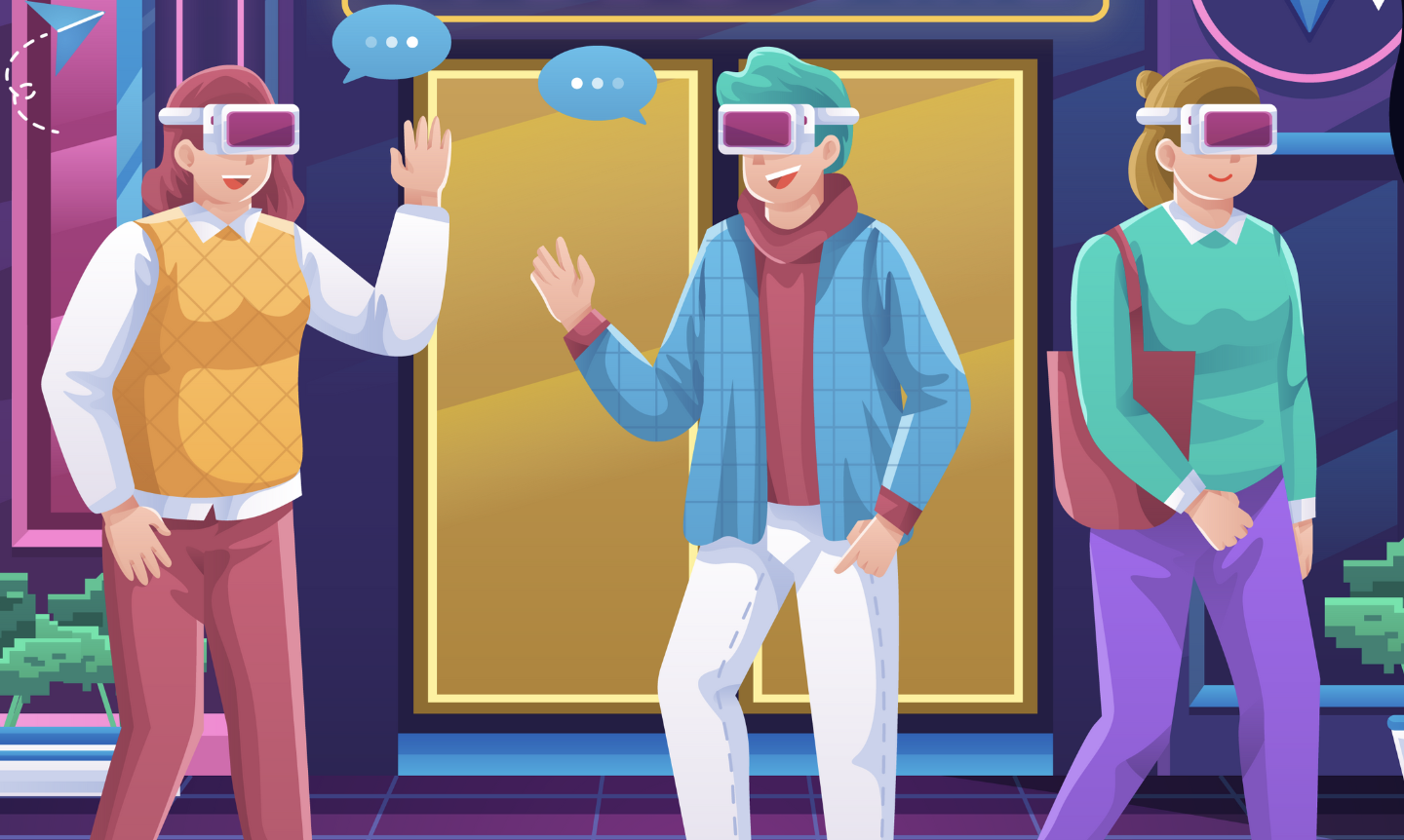 Metahuman Doctors
Yes, here's where your sci-fi dreams come true. Imagine, we give all our physiological and biometric information to the Meta developers, which then gets tied to our virtual avatars. Doctors could actually use such medical data to diagnose, research and run tests on new treatments.
Now, how to land a role in the Metaverse?
There are no two ways to land a spectacular job in the Metaverse. You must remain focused, and plan ahead to avoid any roadblocks. Here's what you must ensure: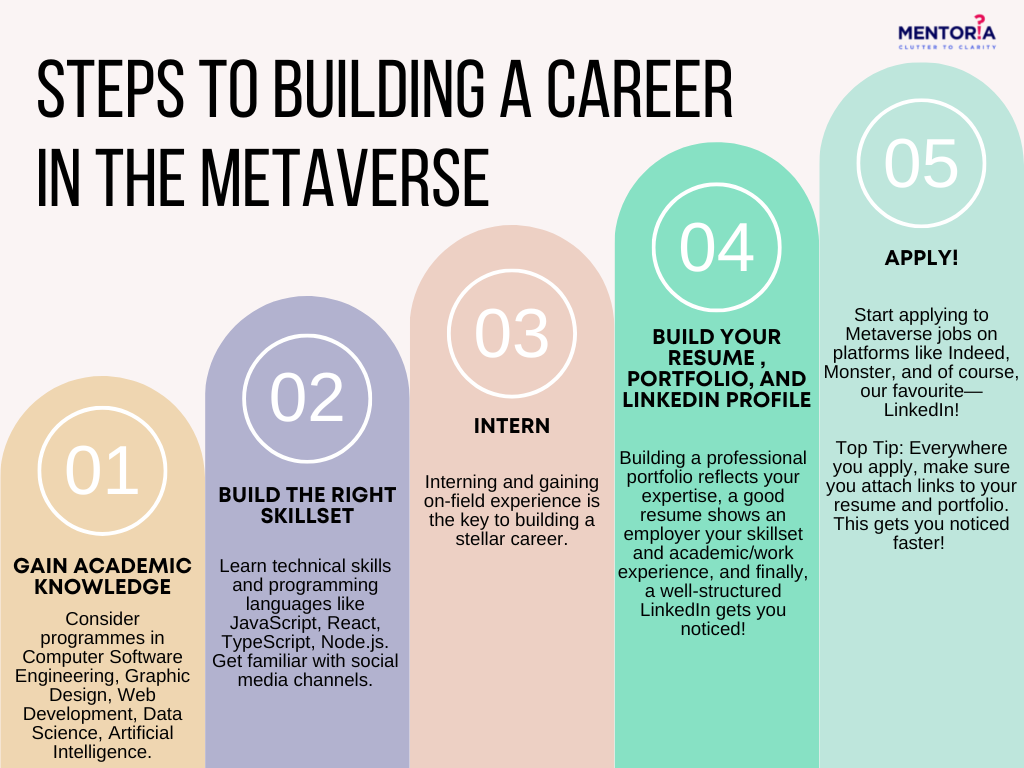 Are you wondering, "what do I need to get started?"
Here's what you need—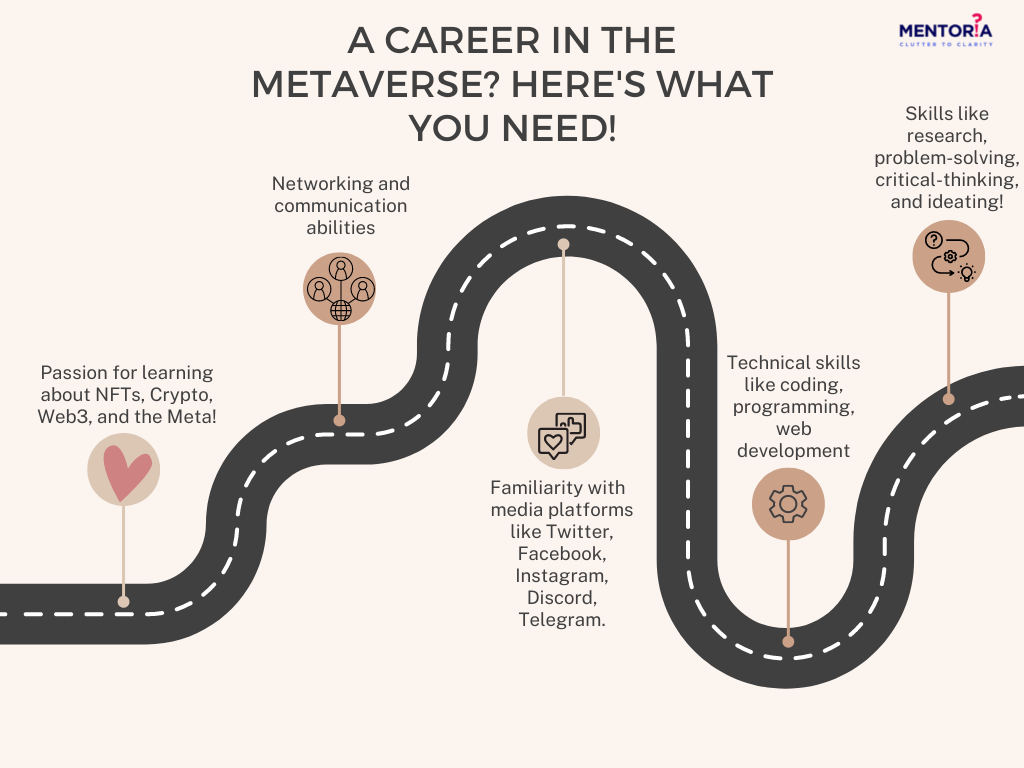 Meanwhile, if you're still confused about your career.. 
Get #CareerReady with Mentoria! Building a career requires the right guidance, and who better than actual experts who assist you in assessing your strengths, weaknesses, choosing academic institutions, creating a resume, and so much more! 
Take the Mentoria Assessment today and work your way into a stellar career in Metaverse!
Don't want to restrict yourself to the Metaverse? We have hundreds of other careers for you to explore on our Career Library!
So, what are you waiting for, let's get started right away!