Mentoria Review – Career Counseling for Deccan Institute of Commerce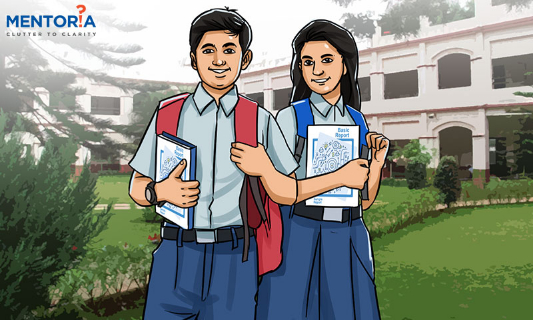 ---
---
Around a mere decade ago, things were different. Students would amass as much knowledge as they could while in school and then step out to get some practical experience. That's changed now. 
Parents expect schools to not only take care of their child's education but also facilitate that education with key practical experiences and skills. They want to make sure their children leave school fully prepared for what their future holds for them and not just walk away with a mere passing certificate. 
To help schools provide a better, more holistic education, Mentoria has been partnering with them to provide their students with career guidance. Class 8 onwards, students have to make important decisions like choosing subjects which will eventually shape their professional career. They are expected, at this young age, to know what career they want to follow and take the necessary steps for it. 
This is where Mentoria comes in. Mentoria not only helps students figure out the best career options for them but also guides them in terms of how they should go about pursuing them. We have partnered with several schools over the past two years, one such school is The Deccan Institute of Commerce. 
A Little About The Deccan Institute of Commerce, Pune
Established in the year 1918, The Deccan Institute of Commerce (DIC) started with only 3 students. Their school, although recently established, is known for using modern techniques to make learning an enjoyable experience. The school has gained a reputation for its quality education, thanks to its experienced and qualified teachers.  Keeping in mind their goal to churn out the talented youth of tomorrow, DIC partnered with Mentoria to help their students get #CareerReady.
The Mentoria Solution
In July 2018, Mentoria partnered with DIC School to conduct #CareerReady workshops for students and their parents to help them understand the importance of career guidance. 28 students and their parents invested in the full Mentoria Solution. Here's what the workshops involved.
The programme began with students taking Mentoria's psychometric assessment, which analysed their core interests. This was followed by a 60-minute career-counselling session with our expert counsellors, who validated the results of the assessment and helped students – and their parents – understand their strengths and development areas. During the counselling session, our counsellors helped students shortlist the top three careers they are most likely to enjoy and excel at. The counsellor then answered any questions the student or their parents had regarding the shortlisted careers. Once the session was complete, students were given access to Mentoria's Knowledge Gateway, which provides detailed information on their chosen careers – from the stream and courses they should pick and the skills they should acquire right down to the roles and responsibilities they would take up in their career. Students also connected with industry experts through pre-recorded webinars, which helped them gain a deep and realistic understanding of what goes on in their chosen careers.
Discover more about Mentoria's Knowledge Gateway here:
Speak to Mentoria's expert career counsellors to begin your career discovery journey today!
Mentoria Career Counselling Reviews from DIC School
"I'm clear about what stream I need to choose after my 10th. So, that tension has vanished. I can now successfully concentrate on my studies and have realised how much easier studying has become."
-Akshata Upalekar, Student, DIC School
"Schools and Mentoria need to come together to create a nation transforming result."
– Harsha Joshi, Principal, DIC School
The Mentoria Solution continues to help many students discover more about themselves and their ideal careers. And also equips them with all the information they require to become #CareerReady. Mentoria hopes to continue this initiative of partnering with schools to help more and more students lead happier, more successful lives. If you would like to partner with us to help your students grow into happy, #CareerReady individuals, reach out to us to join the #CareerReady movement!
Kick-start your students' career discovery journey with Mentoria & be sure to find the right career fit for them. Our 4-step career guidance solution, helps us find the right career fit for your students from 3 streams, 850+ courses & 12,000+ careers.