What is A Subject Combination?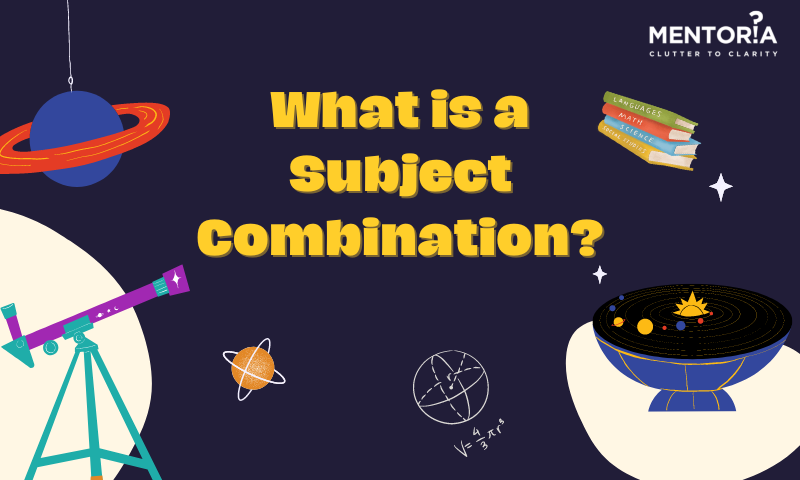 ---
---
Did your cousin score better only because they took Information Technology in 11th grade instead of a language? Imagine this scenario, you'll probably relate to it! You are interested in history, psychology, and literature at the same time but how to study these together? Well, this is when subject combinations come into the picture.
"Why am I even studying this subject? I don't even like it!" Don't you feel like this at times? Do you wish to study multiple subjects at the same time and then decide your niche? Sounds like the perfect way to build an ideal career!
Subject Combination refers to the group of subjects that you choose at the start of the academic session to study for the duration of the course. This enables you to study multiple subjects at the same time and broaden your knowledge.
Subject Combinations at high-school 
While pursuing a course, there is a set of subjects that are required for all students, known as "core subjects," while optional subjects are classified as "electives". This choice helps you choose the subjects that you are really passionate about, making you score better. 
In most schools, these subject choices are given in grade ninth. Class 9 and 10 are combined courses. You must only take subjects in Class 9 that you intend to continue in Class 10.
The school may decide which elective subjects to offer in different Combinations based on the curriculum's elective subject selection. Languages, Mathematics, and Social Studies are essential components of the Combinations offered in Class X.
In the ICSE, for example, Group I subjects such as English, Second Language, Geography, and History-Civics are required. Students may select any two subjects from Group II (Science, Mathematics, Economics, Commercial Studies, and so on) and any one subject from Group III (Home Science, Fashion Designing, Computer Applications, etc.)
Each board has its own set of goals and educational curriculum. As a result, it's best to check each one separately. Take a look at the subject combinations offered by different state boards here:
The school boards (ICSE, CBSE, state boards, etc.) provide numerous options. It is your job to select one that suits you.
With the IB, You have the freedom to select three subjects to pursue at Higher Level (HL) and an additional three subjects to study at Standard Level (SL). This implies that you could end up with a subject combination that you and your cohort are the only ones who take.
How to choose a strong subject combination?
In most cases, you will not be able to change the subjects you take so choosing a suitable subject combination that works to your advantage is critical. The first step would be to identify your strengths and subjects that you are naturally drawn to. The syllabus for all of these subjects is available on the websites of your respective schools; you can review it and decide if it is of interest to you. 
You should even talk to your seniors about it and ask if those subjects are good for scoring and if the faculty is good. Elimination would speed up the process of selecting your subject combinations. But should it be based on interests, ability, or scoring perspective? The short answer to this dilemma is to prioritize your interests because you are more likely to stay driven and study subjects that you genuinely enjoy.
Subject Combinations at Colleges 
Subject Combination after Class 10th or for Intermediate in India consists of three major groups of subjects, namely Commerce, Science, and Arts & Humanities.
Just like at the school level, candidates get a chance to pick their own subjects at a university level as well. While core subjects remain constant throughout the major, electives or optional subjects vary to a great extent. 
Your college/university plays a major role here because the subject combinations vary from college to college. When you apply for admission, this should definitely be the first thing to look for. The Subject Combination at the undergraduate level is more diverse than at the secondary level. Most faculties provide students with a variety of electives, allowing them to specialize in their area of interest.
Aside from the four core subjects in the Science stream (Physics, Chemistry, English, and Biology/Mathematics), most colleges require you to take a fifth optional subject. Physical Education, Software systems, Multimedia & Web Technologies, Foreign Language, and other popular electives are the subject combinations in the Science Stream. 
English, Accountancy, Business Studies, and Economics are some examples of optional subjects in Commerce. When we look at humanities, we have English, Psychology, Sociology, Geography, Political Science, Social Work, Filmmaking, etc. 
At the college level, elective subjects such as Photography, Advertising, Human Rights, German Language, Politics, Fine Arts, and Stress Management, to name a few, become more advanced and specialized.
You are well aware that a master's degree is the most diverse academic qualification available, with a wide range of specializations and majors. The teaching style varies as well, and some master's programs offer interdisciplinary curricula. You can also choose from a variety of skill-based courses that will give you practical knowledge. 
Best Subject Combinations For BA: How to Choose?
BA is one of the most popular Humanities courses because it offers more specializations than others. Check out Mentoria's blog on career options in BA to get in-depth knowledge. Languages available include: The primary language is English, with Hindi or Marathi as a secondary language. There are subject combinations like Psychology-Sociology-English, Philosophy-Psychology-Sociology, or even Political Science-History-Economics. These are the ones you choose along with the already existing compulsory subject. 
Now how do you choose? Well, It all depends on the career path you want to take in the future. For example, if you want to be a social worker, your main subject would be sociology, and you could combine it with psychology or logic, whichever is available. If you want to get into psychology, you could choose that as your main subject along with English literature and Sociology or Political Science as a backup.
Choose a subject that you are knowledgeable about. For example, choose Economics only if you enjoy Math. Finally, make a decision based on the market's job opportunities. It is best to read and research the topics available.
Make The Smart Move and Get #CareerReady
If you cannot choose between subjects and have a hard time assessing your interests, you can check out Mentoria's Career Assessment. Get started with the career assessment and book a career counseling session with our experts to discover which field is ideal for you and which subject combinations you should take based on your interests and abilities.