Wondering If An Aptitude Test Is Right For You? We Can Help!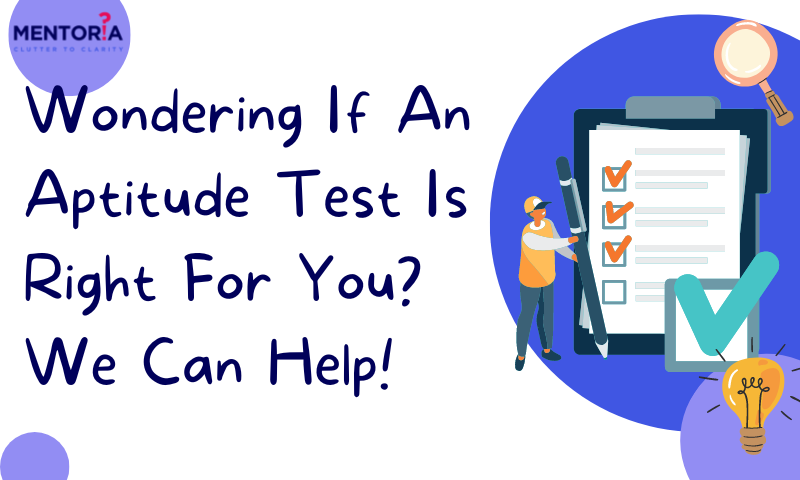 ---
---
Nearing the end of high school? You're going to now make a big decision about your future – by deciding which stream to choose. A lot of factors can be considered to make this decision – your interests, future aspirations and objectives, and even skills! Of course, you'll have tons of opinions coming your way too. But the biggest decision maker will have to be your own interests and strengths. This will help you work towards your bright future with tons and tons of motivation! But will an aptitude test help you glimpse into your future and arrive at this decision? Perhaps not.
Aptitude tests are meant to measure your skill-set or capabilities for a particular role. Different industries call for various skill sets. Successful architects, for instance, need to have a good eye for detail, spatial awareness, the capacity to sketch effortlessly, etc. Understanding your aptitude can be helpful to decide if you'd do well in a particular course or career. Tests like CLAT, LSAT, SATs, GRE etc are examples of aptitude tests. However, they're helpful only when you've already made up your mind to get into that specific career – it's not ideal to decide which career you should be getting into.
Read on to know everything about aptitude tests and when to take them!
What is an Aptitude Test?
An aptitude test is used to assess a person's abilities or to anticipate what a person will be able to learn or accomplish with the correct training and guidance. It shows how capable a person is of handling a specific kind of task.
Is an aptitude test an example of an intelligence test? Not quite. Although the two tests are similar, they assess different things.
An aptitude test determines whether you have the potential to acquire future skills in a particular area. An intelligence test measures your current cognitive abilities.
When do you need to take an Aptitude Test?
Aptitude tests are typically administered in two primary contexts: in the classroom and as part of job interviews.
For education, aptitude tests could be used to help inform judgements on a student's academic track. Numerous career options are typically provided to you. Selecting the best professional path can usually be challenging. Students can better identify their areas of interest and strengths with the use of an aptitude test. It provides clarity to them on which career path is most appropriate based on their skill sets.
Their most popular use, though, is in hiring. Employers use them to analyse the potential of individuals from similar backgrounds and evaluate talents that are difficult to assess only through CVs and interviews.
What are the different types of Aptitude Tests?
Logical Reasoning Test
You are evaluated on your capacity to draw valid inferences from the data and statements in logical reasoning tests. Regardless of the class you are studying in, it evaluates students on your ability to draw logical conclusions.
Abstract Reasoning Test
The abstract reasoning test measures your capacity for understanding shape changes, coming up with unique real-time ideas, and making creative sketches based on vintage artwork. This kind of test is typically used to assess a person's creativity and capacity for quick problem-solving.
Numerical Reasoning Test
Your proficiency with numbers is evaluated on this test. Your capacity to correctly interpret numerical or statistical data, such as graphs, equations, and fractions, is thoroughly examined by the way it is set up.
Such exams are primarily used by companies that hire bankers and accountants as well as by students who want to improve their mathematical abilities.
Verbal Reasoning Test
The verbal reasoning test evaluates your comprehension and communication skills by asking you to write and speak conclusively. These examinations measure a candidate's capacity for comprehension, analysis, and accurate conclusion-making in real-world situations.
General Aptitude Test
Students are given a set of significant subject-related questions for the general aptitude test, and their answers are used to determine how prepared they are for the exam. It indicates a student's strong and weak academic areas. They are better able to understand concepts and earn a higher score as a result.
Psychometric Test vs Aptitude tests
The psychological evaluation test measures your efficiency level for making decisions and your comprehension of various situations. It basically checks your presence of mind. The better you are at solving problems, the better you'll do on these tests. It measures a person's interests, personality and current abilities. 
An aptitude test, on the other hand, shows a student's intellect, and potential for understanding new theories and concepts. They are a type of psychometric assessment that help recruiters evaluate candidates' cognitive and mental potential.
What is the importance of taking an Aptitude Test?
We've talked about the meaning of aptitude tests, types of tests and when one should take them. Additionally, It is important to know why these aptitude tests are useful for students.
An aptitude test identifies a student's skills and areas for improvement.

A student can find out what kind of profession they are most naturally suited for with the aid of an aptitude test.

Students who take an aptitude test can learn about their areas of weakness, which may help them come up with and put into practise solutions to those problems.
Seek Guidance From Mentoria!
Want to prepare for an aptitude test? We're here to provide you with all the help! Kick-start your career discovery journey with Mentoria and discover the right career fit for you. Feel free to call us to speak to our career mentors and choose the right career guidance plan that suits your needs.
Mentoria's career guidance programme enables you to choose your perfect fit from 3 streams, 850+ courses, and 12,000+ careers, and discover what will bring out the best in you.