7 Indian Summer Camps You Can Consider Enrolling For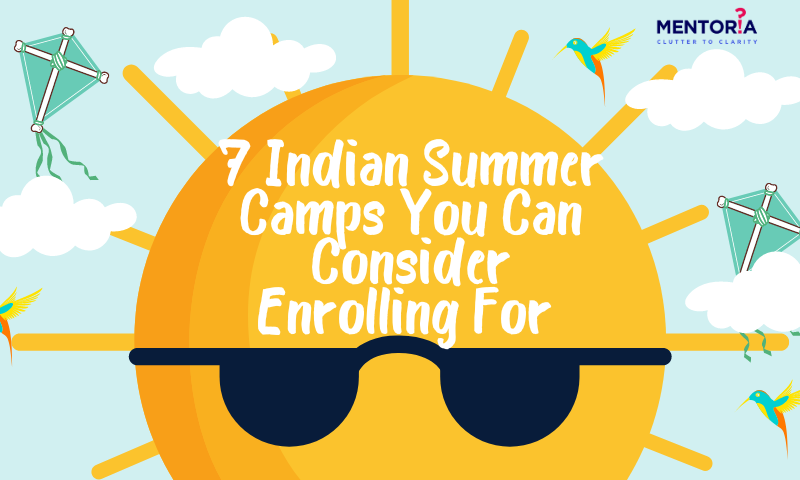 ---
---
Hey there, are you feeling the heat of the Indian summer? Well, fret not! Because we have some exciting news that might just help you beat the heat in the coolest way possible. We're talking about summer camps, folks! 
And not just any ordinary summer camps, but the ones that will leave you with an unforgettable experience. So, whether you're looking for adventure, sports, arts or simply a change of scenery, we've got you covered. Here are 7 Indian summer camps that you can consider enrolling for. Trust us. These camps are going to be worth the sweat.
Step right into the wild with Mysore Zoo Wildlife Camp! Calling all young explorers and animal lovers out there. This summer camp is one to be noticed. Get ready for an adventure as you delve into the depths of wildlife conservation and management. Hosted by the Mysore Zoo, this wildlife summer camp promises a truly unique and informative experience for children between the ages of 12 to 18 years old. 
Over ten exciting days in April and May, you'll learn about animal behavioural studies, captive wild animal management, wildlife crimes and laws, health care management in captive animals, and the importance of wildlife protection. But that's not all – this camp also includes practical field experience! 
You'll go on zoo patrol, interact with animal keepers, and visit the beautiful Karanji Lake Nature Park and the fascinating Regional Museum of Natural History. And to top it all off, you'll receive a certificate of completion to showcase your newfound knowledge and experience. So, don't wait any longer. Join the Mysore Zoo Wildlife Camp and make memories that will last a lifetime.
Are you ready to shoot for the stars and explore the wonders of the universe? RiSa Astronomy, based in Bengaluru, has covered you with exciting astronomy camps! Whether you're a budding astronomer or just looking for a unique adventure, these camps offer adults and children a fun and informative experience. 
Led by the self-taught astronomer Ashish Kumar, the camps boast top-of-the-line facilities and qualified staff to guide you through the fascinating world of astronomy. And let's remember the chance to cosy up in tents and gaze at the twinkling night sky. 
Located in Denkanikottai, Tamil Nadu, about 70 kilometres from Bengaluru, participants will get the opportunity to learn the basics of astronomy and observe celestial bodies and the sun through telescopes. 
But wait, what? There's more! Both adults and children can enrol in their overnight camps. Minors must be accompanied by an adult, preferably a parent or guardian. So, whether you're looking to ignite your passion for astronomy or just have an out-of-this-world experience, RiSa Astronomy's camps are the perfect way to do it. Get ready to embark on an adventure that is truly out of this world.
Looking for an adventure-packed summer camp that will leave you feeling alive and exhilarated? Look no further than Inme-Youreka, India's oldest and largest outdoor adventure-based organisation! 
Open to children between the ages of 9 to 17, their camps are set up in some of the most picturesque locations around the country, including Uttarakhand, Himachal Pradesh, Maharashtra, Tamil Nadu, and more. And with their camps divided into different levels-
Explore programmes (9-12 years)

Discover programmes (10-17 years)

Challenge programmes (13-17 years) 
There's something for every young adventurer. At Inme-Youreka, campers will get to experience a wide variety of thrilling adventures and challenges. From rock climbing and mountain climbing to backpacking, river rafting, mountain biking, and more – there's never a dull moment! 
But it's not just about the adrenaline rush – their camps are designed to help children develop essential life skills like leadership, teamwork, problem-solving, and communication. So, what are you waiting for? Sign up for an unforgettable summer adventure with Inme-Youreka and create memories that will last a lifetime.
Nature lovers are always looking for an unforgettable camping experience. Mark Pugmarks, the brainchild of three passionate conservationists based in Pune! Pugmarks have been committed to educating young minds about the wonders of the outdoors and nature conservation while promoting personal development for over two decades. 
And with various camps held inside and outside Maharashtra, they offer something for every adventure seeker. Whether you're into adventure camping, wildlife camping, lake view camping, or something in between, Pugmarks has got you covered. You'll experience the thrill of the great outdoors while learning about the importance of preserving our natural environment. 
But it's not just about the camping experience. Pugmarks' camps help young people develop essential life skills like leadership, teamwork, communication, and more. Don't wait. Join the Pugmarks community and embark on a journey of discovery, adventure, and conservation that you'll remember for years. 
As a leading ecotourism organisation, Foliage Outdoors is dedicated to providing unforgettable wildlife, adventure, and trekking trips for all ages. And for kids between the ages of 8 and 18, they offer a wide range of exciting camps designed to inspire a love of nature and outdoor exploration. 
With wildlife camps for children aged 10-16, adventure camps for 12-18-year-olds, and kids' camps for 8-12-year-olds, Foliage Outdoors has something for every young adventurer. The possibilities for fun and discovery are endless, from rock climbing and rappelling to cave exploration, trekking, kayaking, and scavenger hunts. 
And with locations throughout India, you're sure to find a camp that's perfect for you. Come and be a part of the Foliage Outdoors crew and have an experience you'll always remember in the great outdoors. 
How eager are you to release your inner explorer and learn to appreciate the natural world? Anyone interested in Jai Sharma's Nature Camps in Karnataka must look no further. As a renowned wildlife photographer and National Geographic certified educator, Jai Sharma passionately advocates for environmental education and nature conservation. 
And with his nature study camps and field trips, he's bringing the excitement and adventure of the great outdoors to people of all ages. At Jai Sharma's Nature Camps, you'll have the opportunity to experience the beauty of the natural world up close and personal. There's no shortage of exciting activities, from thrilling safaris to scenic bird and butterfly trails, farm visits, trekking and more. 
You'll gain valuable knowledge and insight into the fascinating world of nature and wildlife. Whether you're a seasoned adventurer or a first-time explorer, his camps are designed to inspire a sense of wonder and curiosity in people of all ages. Discover the magic of the great outdoors and create memories that will last a lifetime. 
Nestled on the outskirts of the magnificent Bannerghatta National Park, this farm and homestay offer an incredible opportunity to explore and learn about the wilderness. Perfect for families and nature enthusiasts, The Outback Experience organises fun and educational workshops and camps for children and adults. 
With the guidance of award-winning photographer and co-founder Philip Ross, budding photographers and nature enthusiasts can capture stunning shots of the park's wildlife while learning about nature conservation and protection. 
Prepare to embark on an adventure of wildlife tracking, angling, and photography. Children will have a chance to experience nature's best, from bird watching and butterfly spotting to trekking through scenic trails. Take advantage of this unforgettable experience at The Outback Experience. 
Ready to take action?
So, these are the 7 Indian summer camps that you can consider enrolling for. Whether you're an adventure lover, wildlife enthusiast, or just looking for a fun and educational way to spend your summer break, there's something for everyone. Take advantage of these unique experiences that will create memories to last a lifetime. 
But wait, do you need to figure out your future career path? Worry not. Mentoria, a career counselling company, can help you. Our team of experts can guide you in making informed decisions about your career and help you reach your goals. So, why not check them out and take the first step towards a fulfilling career?