15 Career Oppurtunities in STEM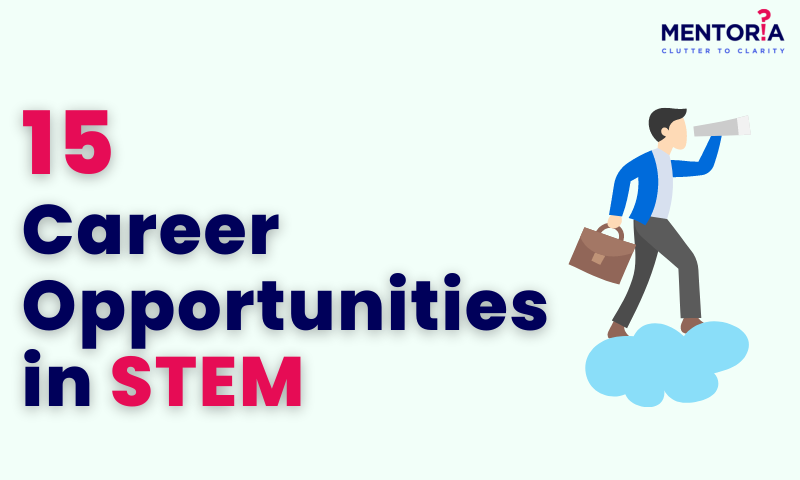 ---
---
Interested in STEM? Here Are The Top 15 Careers For You!
Are you someone who is actually interested in math and science? Do you enjoy scientific fun facts? Have you ever found yourself going down the rabbit hole of a scientific theory? Be it the celestial bodies or the latest trends in artificial intelligence, do you find yourself fascinated by all of this? Are you that friend of your group who is called a "nerd"? Be it basic problems in someone's phone or coding, do you try to crack it? Do you enjoy learning concepts of technology and want to stay updated with new products? Are you also looking for a career that aligns with these interests of yours and is also referred to as a job of the future? Well, a career in STEM looks like your thing! If you thought that careers in science or math are always boring then we are here to prove you wrong!
What Really is STEM?
It is not difficult to get excited about careers in STEM. "How?" Firstly, STEM stands for Science, Technology, Engineering and Mathematics. If you desire to work in fields relating to science and technology, this is a very cool career sector to be in plus it does not necessarily include having a fancy degree or working in a lab. Your job will present challenges, and you'll learn about newly discovered technology. 
STEM careers are not merely excellent career paths. It's a way to land a well-paying career as well. Jobs in STEM are available in many professions, from research assistants to physics teachers. There will never be a shortage of positions for someone with your qualifications because as you know, new jobs are constantly being introduced to the workforce. 
There are also many diverse industries you can work in like healthcare, business, tech, and more. Many STEM-related jobs don't require a college degree. Others demand graduate-level training and the corresponding skills and experience. In some manner, all STEM fields involve using scientific principles in practical settings. The nice thing about these positions is that the top STEM careers are focused on solving problems. So clearly, there is something for everyone here! If that is something you are looking for, then let's take a look at the top careers in STEM!
Looking For Cool Career Options In STEM? Here You Go!
The list here is to show you how varied careers in STEM are and how interesting they can be! You'll be one of the select few who enjoys going to work each day and can boast about your career.
Do you love aircraft, missiles and stuff like that? The research, development, and manufacturing procedures for the construction of aircraft, missiles, and spacecraft are coordinated by aerospace engineers. They are in charge of designing, modifying, and testing aeronautical products. 
They also develop prototypes and test them to make sure they work as intended.  An aerospace engineer is one of the top five highest-paid professionals in the engineering sector. If you consider yourself to be highly technical and accurate, whilst also using creativity and quick thinking to solve problems then this is your chance!
A mid-career Aerospace Engineer with 4-9 years of experience earns an average salary of ₹10.1 Lakhs per year
If you wish to combine your artistic and scientific skills then this is the best career option for you! If you have graphic design expertise and a passion for the medical industry, you can use cutting-edge animation techniques to make complex scientific concepts exciting and accessible to a wider audience. 
A professional artist with in-depth expertise in health, research, communication, and media technology is a medical illustrator or animator.  As experts in visualisation, they provide imagery that enhances public and patient health literacy and promotes medical science knowledge. A master's degree in biology can strengthen your design abilities and put you in a position to succeed in this cutthroat industry.
The national average salary for a Medical Illustrator is ₹15,54,899 in India.
A computer network architect plans computer networks and demonstrates how the network functions. They build minor network connections in addition to transnational and international network systems in a range of situations, including the corporate, financial, and medical sectors.
The installation of routers, modems, and any other hardware and software upgrades necessary for the communication networks to operate properly are primarily under the purview of the Network Architects. When network vulnerabilities develop, they should constantly be ready to plan and implement security remedies, keeping the organisation's security concerns in mind.
Network Architect salary in India ranges between ₹ 10.1 Lakhs to ₹ 38.0 Lakhs with an average annual salary of ₹ 21.0 Lakhs. 
Have strong problem-solving abilities? Do you prefer playing strategy games or are you more of a musician? These are just a few of the rather unexpected indications that a career in software development might be right for you. Software is created by programmers using their technical expertise and creativity.
The demand for software and web developers will increase dramatically over the next several years due to the abrupt shift to remote working and the acceleration of digitisation. These experts are responsible for creating and sustaining remote digital services as well as creating e-Commerce customers' friendly online tools and platforms.
Web Developer Salary in India with less than 1 year of experience to 6 years ranges from ₹ 1.2 Lakhs to ₹ 7.5 Lakhs.
How does a particular virus spread? What elements cause autoimmune diseases? How can we reduce falls among the elderly?  Epidemiologists look at these issues and others. They keep an eye on public health trends and search for answers.
A public health professional who studies human disease causes and looks into infection and illness trends is known as an epidemiologist. They frequently engage in community activities to inform the populace and create effective health policies. While some epidemiologists also hold medical degrees, most have master's degrees in public health.
The average salary for an Epidemiologist in India is ₹6,42,924.
An expanding number of industries benefit from robot technology as technology develops. Robotics engineering advances a number of critical professional fields, including sustainable agriculture, smart infrastructure, and autonomous cars.
Robotics engineering is an advanced field of technology that combines computer science, engineering, and cyber-physical systems to develop, test, and use intelligent devices that can operate alongside or in lieu of people.
Robotics Engineer Salary in India ranges between ₹ 1.8 Lakhs to ₹ 7.5 Lakhs
With the shift of the global business environment to cloud data storage and online administration, the demand for cybersecurity is at an all-time high. Commercial organisation data and personal data are at risk of being misused due to greater internet exposure.
Information security analysts are accountable for conducting research, developing, and putting into practice security methods, software, and other safeguards that defend their organization's computer networks from assaults. To safeguard the computer networks and systems of a business, they create and implement security measures.
The average salary for a Security Analyst in India is 5.1 Lakhs per year 
A career as a database administrator can be great for you if you enjoy working with technology and have great analytical and problem-solving abilities. For applicants who desire to work in the information technology industry, this demanding career with considerable income potential can be gratifying.
To make wise judgments, almost every business and organisation depends on data. All of the information is kept safe, arranged, and used with the assistance of database administrators. Making sure data is available to those who are permitted to view it and secure from those who aren't is a crucial part of managing data.
Database Administrator Salary in India ranges between ₹ 5.0 Lakhs to ₹ 23.4 Lakhs
You undoubtedly know what a radiologist is if you have ever had a PET or MRI scan.
Radiologists use radiological imaging techniques such as X-rays, computed tomography (CT) scanning, magnetic resonance imaging (MRI), ultrasound, nuclear medicine, and positron emission tomography (PET) scanning to diagnose and treat disease and injury. It is a career that is rapidly expanding and pays well. Radiology is a well-paid profession. Every doctor and nurse has something to teach you about new talents.
Radiologist salary in India ranges between ₹ 1.0 Lakhs to ₹ 93.0 Lakhs with an average annual salary of ₹ 12.4 Lakhs.
Are you an animal lover? Do you think animals make the best coworkers? Well, here is your chance to make a career out of it!
Animals of all kinds are studied by zoologists and wildlife biologists. (Contrary to the name, zoologists frequently research animals in their natural environments.) The people who care for the animals in zoos are called zookeepers. While wildlife biologists examine a certain ecosystem and the animals that reside there, zoologists typically focus on a single kind of animal. Animal species protection is another area of specialisation for wildlife biologists.
An early career Zoologist with 1-4 years of experience earns an average total compensation of ₹4,50,000.
Do you like the idea of maps? On your phone, there is surely at least one navigation app that can guide you to new locations. The maps that you and everyone else use to navigate are made by cartographers, whether they are digital or printed on paper.
Finding work solely in cartography is challenging because you'll also need expertise in other areas. However, a modern cartographer is still required in order to convey information graphically and tell a story. 
Did you know that geographic information professionals can also be referred to as cartographers who employ Geographic Information System (GIS) data? Photogrammetrists are professionals who focus on building models of the Earth's surface using tools like satellite surveys. A bachelor's degree is typically needed in a field like surveying, geography, geomatics, or cartography.
The average salary for a Cartographer in India is ₹3,03,391.
If you are someone who loves water bodies then it is time to combine this interest of yours with a skill to make it a career. Compared to surface archaeology, underwater archaeology is a little more difficult and requires methods like sonar, depth gauges, tape measures, and sending divers or remotely operated vehicles (ROVs) to survey sites (Remotely Operated Vehicles). It's a very deep field that's both fascinating and hard!
Underwater archaeology offers a variety of career options. One reason is the growing global understanding of the cultural heritage importance of these resources. Another is that underwater archaeologists can contribute in a special way to our knowledge of the past.
After a few years of experience, marine archaeologists are offered a package of around Rs 6 to 8 lakh.
There doesn't have to be a reason to stop playing with LEGO! This position combines an ability for engineering with a creative eye and artistic talent. In order for LEGO sets to function as genuine constructions, LEGO designers must come up with novel and intriguing ideas. Although there aren't many vacancies in this competitive field, there is no reason not to pursue it if you have the perfect mix of creativity and attention to detail.
Interested in stocks, bonds, trading and similar things? Financial analysts advise companies and people on how to spend money to make a profit. They assess the efficiency of stocks, bonds, and other financial products.
Financial analysts compile data, create spreadsheets, prepare reports, and examine any relevant non-legal information on potential deals. They evaluate a deal's viability and create a strategy based on financial research.
Financial Analyst salary in India ranges between ₹ 2.1 Lakhs to ₹ 10.3 Lakhs with an average annual salary of ₹ 4.0 Lakhs. 
"Psychology is a growing field! But how is it a part of STEM?" 
Although psychology may not appear like a logical STEM field, the American Psychological Association (APA) emphasises the field's influence on scientific and technical advancements as well as the significance of understanding human behaviour in technology design and implementation.
Intriguing research is conducted in some areas of psychology, such as neuropsychology or developmental psychology, to understand why individuals behave the way they do.
Psychologist salary in India ranges between ₹ 1.0 Lakhs to ₹ 8.0 Lakhs with an average annual salary of ₹ 3.6 Lakhs.
This is just a gist of what top careers in STEM would look like, there is a wide range of careers from actuary to geologist. At every level, there are rewarding opportunities in the STEM fields. Why not begin working in one of these rewarding fields?
Get STEM Ready with Mentoria!
While the science, medicine and engineering verticals have a lot of scope to build a successful career, there are so many other options for you to pursue! However, choosing a career you're inherently interested in is important. Your choice of career will dictate the next 25 to 30 years of your life, so it's important that you pick the right one based on your interests. Confused about how to go about it? Take the Mentoria assessment to get started!
Our holistic career assessment test opens the doors for you to discover what best suits your interests, personality and skills. Our 4-step career guidance solution, helps us find the right career fit for you from 3 streams, 850+ courses & 12,000+ careers. Take the first step and we'll be there to support you along the way.