14 Tips on How to Prepare for Medical Entrance Exams at Home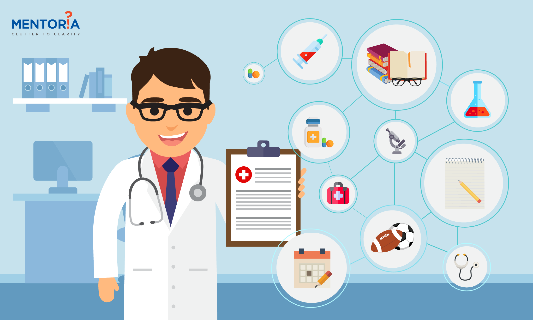 ---
---
Exams are always stressful, aren't they? Whether you are a student or a parent, you know how pressurising things get when it is exam time.
All you budding doctors, it is that time when you probably are burning the midnight oil, working harder than ever before as you prepare to take your medical entrance tests. You've been waiting for this for a while, haven't you?

The medical admission tests are considered to be one of the toughest to crack. Nervous? We got your back. We, at Mentoria, spoke to some young, bright minds who have aced the exams in the past and they had a few suggestions to make. Read on.
Prepping for exams can be very stressful, but there's one test you don't need to prepare for at all – Mentoria's holistic career assessment test! Mentoria helps you figure out which career best suits your personality, skills and interests so you can find your perfect fit!
No Fear:
A lot of students psych themselves into believing that medical entrance exams are difficult to crack. However, it's crucial for you not to give into your fears as this would hinder your preparations. If there are things you don't understand, and especially if you're stressed, always ask for help.
Once you manage to put the fear factor behind you, begin your studies with a well-thought-out plan. Acing the exams in the first attempt is a very achievable task, believe it.
Make a Timetable:
It is always handy to have a timetable ready for your preparations, as this helps you organise your day. There would be times you may feel you are unable to meet your targets. Let that not worry you. Keep at it. Try to organise your studying because having a regular, set timetable will help you get into a studying mentality faster. Set aside 30 to 45 minutes for study sessions. Longer time blocks are more difficult to find and schedule than shorter time blocks. Make timetable for all of your free time.
A timetable also helps you to realise the amount of coursework you have left to cover.
Know Your MCQs
The medical entrance question papers now deal with practical and theory. So, it is crucial for you to know your theory and practical concepts well. You want study resources that have a direct relationship with your assessments. At the same time, you need to develop the skills to think analytically about complex medical problems. MCQs are widely used in medical education and can promote surface learning strategies and set the foundation for your overall knowledge about a concept.
Multiple choice questions could be set from different angles; hence it's vital for you to understand your syllabus as opposed to learning it by rote.
Always Have a Plan:
It's recommended you begin the test with the most critical subject. Well, in this case, it is biology!
Biology is the subject that will fetch you the most marks. You can then move on to the tougher part of the test – chemistry. You will have to apply yourself harder and hence answering this part of the test might be a little time-consuming. This method will keep you ahead of the game and will help boost your confidence levels while you attempt the test.
Practice For Perfection:
Most entrance exams have a massive number of applicants, and this makes coaching necessary for aspirants. It is important to choose the right coaching class for yourself, one that can better your grades.
Coaching classes also encourage people to compete, as most students have the same aim as you – securing that coveted medical seat. This level of competition will make you want to outdo yourself and others while solving your papers. Furthermore, practising the syllabus outside of your coaching class can make you more confident about your knowledge in a specific topic.
Group Study:
Science has proven that studying in a group helps you cover your syllabus quicker than when you study alone. Group discussions always help you remember how to solve a problem as opposed to memorising by rote. So, if you ever get stuck while solving your paper, you will be able to recall the discussions quickly. Group study is a wonderful way to fill in any gaps in your knowledge. Everyone can double-check their own notes by comparing them to those of other students. They can correct mistakes and fill in any gaps they may have overlooked. People in a study group also provide tips and techniques for taking notes that anyone can use.
You Never Let Yourself Down:
Most children like to fulfil the dreams their parents have for them or because of peer pressure. However, it's important for you to choose a profession that is all about your interests and passions, as it is a sure route to happiness and success.
Don't psych yourself into believing that medicine is your calling if you don't have any love for it. Choose it because YOU want to, because you know becoming a doctor is what is going to make you the happiest in life. It is preferable to do what you truly enjoy rather than what others expect you to do, as this will only lead to disappointment and regret in the future.
At Mentoria, we believe your career goals should align with your interests. So channel your fascination and into a career you love. Speak to our career counsellors here at Mentoria who can guide you from any point in your career journey!
Avoid Guesswork:
It's best to answer the questions you know, instead of randomly guessing the right answer, as this will only bring down your scores.
Even with multiple-choice questions, first, solve the ones you are certain you know the answers to. You can avoid second-guessing yourself if you work through the topics carefully and systematically. If you commit to an answer, don't change it until you have a strong cause to reject your original choice.It's also recommended you go in with a plan while attempting your paper. This increases your chances of upping your scores.
Make Notes:
It's best to make notes while revising your syllabus. This helps you remember and recall quicker and more efficiently. This method also helps in covering a lot of your syllabus in a short time, while you jot down notes in a way that you understand best. As you practise more handwriting of notes, you will train enough mental energy and sharpness to study subject at a deeper level, building on the improvement in your capacity to focus. Your processing capacity will also be significantly increased.
Don't Try Anything New:
It's important to set yourself daily targets and achieve them. If you feel there is a part of your syllabus you have missed during revisions, it's best to leave it aside.
It may not be the smartest move for you to try and cover new areas of your portion a few days before the examination. It can be super hectic and may affect your current knowledge about a subject. Keep revising what you've already studied and make sure you know it thoroughly, it's better to leave the new things aside than to affect your study capacity.
Reference Books:
Choose the correct reference books for yourself during revision. The ones that have been suggested by NCERT are some of the best. As this will help you prepare better for your exams with the most accurate and relevant notes. Choosing the right reference books play a huge role in helping you ace your exams.
Take Stock:
When you are in the exam hall and receive the question paper, make sure to devote at least 10 minutes to read it properly first. You can take a good 10 minutes in the beginning to read the question paper — use this time to do just that, READ. Read all the questions in 10 minutes. While reading, mark the questions into 3 categories, such as easy, manageable and tough. This is done to have an overall idea about the questions in the exam and make a rough plan.
This way you can gauge the difficulty level of the questions and begin answering the paper according to your strengths.
Avoid Silly Mistakes:
While attempting physics calculations, do so with a calm mind, as this section has a lot of room for errors. Losing marks because of calculation mistakes is most unpardonable. Try and avoid those silly mistakes. As these silly mistakes can cost you more than just your marks and bring your overall progress down. As a result, you must practise until you can perfectly solve complex calculations without making any silly mistakes.
Don't Be a Bookworm:
Yes, the medical entrance exams are a big deal, but that doesn't mean that you forget to have some fun. Studying all day can give your brain a starin and take away all energy, leading you to feel extremely exhausted.
Go out, play a game of sport or have fun chats with friends; just make sure you have some time for recreation.
We hope these hacks have been helpful for you and we wish you the very best of luck.
Students, make sure you stay connected for more in this series. Sure, there are no shortcuts to success but a helpful tip here and there never hurts, does it?
Sign‌ ‌Up‌ ‌for‌ ‌Mentoria‌ ‌-‌ ‌India's‌ ‌Most‌ ‌Reliable‌ ‌Career‌ ‌Discovery‌ ‌Platform‌ ‌
Mentoria‌ ‌promises‌ ‌to‌ ‌handhold‌ ‌you‌ ‌during ‌your‌ ‌career‌ ‌discovery‌ ‌journey‌ ‌-‌ ‌from‌ ‌the‌ ‌time‌ ‌you‌ ‌sign‌ ‌up‌ ‌until‌ ‌you‌ ‌get‌ ‌into‌ ‌a‌ ‌career‌ ‌you‌ ‌love.‌ ‌