Hire Talent Using Social Media Platforms!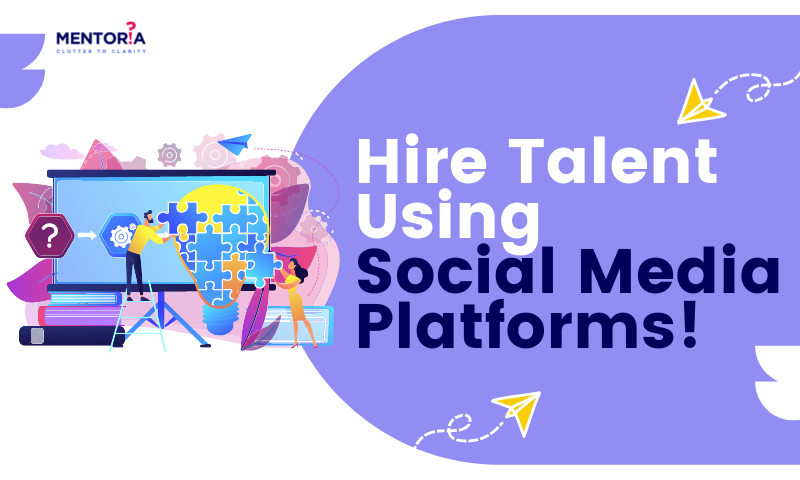 ---
---
Over the past ten years, recruiting has undergone significant change. In an environment that is becoming more competitive, businesses must considerably boost their workforce. The employment market is transforming. Businesses are looking for new skill sets and capabilities, but they are also changing how they discover the right employees. Social media recruiting tactics are essential for bringing in top talent.
Social media recruitment is not a new trend anymore. It has been growing in popularity among talent acquisition experts as social media usage has steadily increased.
It makes sense to use social media to recruit and hire new job candidates since the majority of people use at least one social media platform. Let's dive into the best practices for hiring employees using social media!
How Do You Hire Talented Individuals Suitable For Your Company Using Social Media? Here's How!
Set Goals
You already know who and where; now it's time to set measurable objectives so you can compare them over time and improve your recruitment approach. Determine precisely what you hope to achieve with your social media recruiting approach that you couldn't while using conventional methods.
Choose the Right Platforms
There are numerous different social networking platforms available nowadays. Therefore, it's crucial to understand how each channel operates and who its main target audience is. Since each social media platform is unique, each calls for a different strategy.
As a first step, decide whom you are intending to attract and personalise your strategy for that group. You could want to start with one social networking platform, get comfortable there, and then gradually expand your presence.
Create Your Social Media Presence and Involve Your Employees
Your company's culture and key principles should be reflected in the social media profiles you employ for hiring. Many businesses set up separate Facebook and Instagram accounts just for employer branding and hiring purposes.
In this manner, you can really concentrate on your messaging and communication with possible job candidates while providing the information they are looking for. Additionally, many companies encourage their own staff members to optimise their LinkedIn personal profiles. They also ask staff members to add links to the company's career site on their profiles.
Use Inviting Pictures and Catchy Captions
Use welcoming and simple language when promoting job openings on social media. You may also include pictures or videos that convey what you're looking for. Content with relevant imagery typically reports a greater response than content without.
When posting job vacancies, don't forget to add hashtags as well. Including hashtags like #hiring and #job openings could help you find prospects more quickly as some job searchers follow those.
Increase Your Reach
It's critical that you connect with as many potential candidates as you can. It's important unless you're a firm fortunate enough to have applicants lining up for your positions (and let's face it, there are only a few organisations that fall into this category). Simply said, your chances of making a great hire increase as you reach out to more qualified individuals.
Make Applying Quick and Easy
Social recruiting has become a valuable marketing tool in the era of remote employment. Not only does it provide companies access to a larger pool of potential candidates, but it might also make the hiring process simpler. Businesses need to continuously review and revise their strategies if they want to thrive.
Companies are starting to realise that simply posting jobs on job boards is insufficient. One important point to keep in mind is that your application form must be as simple as possible. Make sure your application procedure is quick and error-free, and don't forget to make your job portals mobile-friendly.
Engage Your Online Community
When it comes to social hiring, it's essential not to lose track of what this strategy is at its core—social. At the same time, be careful not to limit your focus to job advertisements. Always try to start conversations that appeal to many groups.
Participating in Facebook or LinkedIn groups enables you to inform a large number of people that you are recruiting. Interact in the communities you belong to and add value to the audience. Members of the community will be much more open to posts that present job opportunities as they come to know you.
Which Social Media Sites Can You Use?
There are various social media channels available, ranging from big players to niche networks, making it simple to interact with almost any type of candidate. Considering all the options, it's crucial to keep in mind that your social media recruiting strategy shouldn't be a one-size-fits-all method.
Your efforts will provide better results and maximise your investment if you tailor them to each platform. There are several platforms which you can use according to your company's requirements. Some of them are as follows:
Get Help From Mentoria to Hire Candidates Using Social Media!
Want to hire people using social media?We're here to provide you with all the help! Kick-start your career discovery journey with Mentoria and discover the right career fit for you. Feel free to call us to speak to our career mentors and choose the right career guidance plan that suits your needs.
Mentoria's career guidance programme enables you to choose your perfect fit from 3 streams, 850+ courses, and 12,000+ careers, and discover what will bring out the best in you.