Love Canada? Here Are Top 9 In-demand Courses in Canada!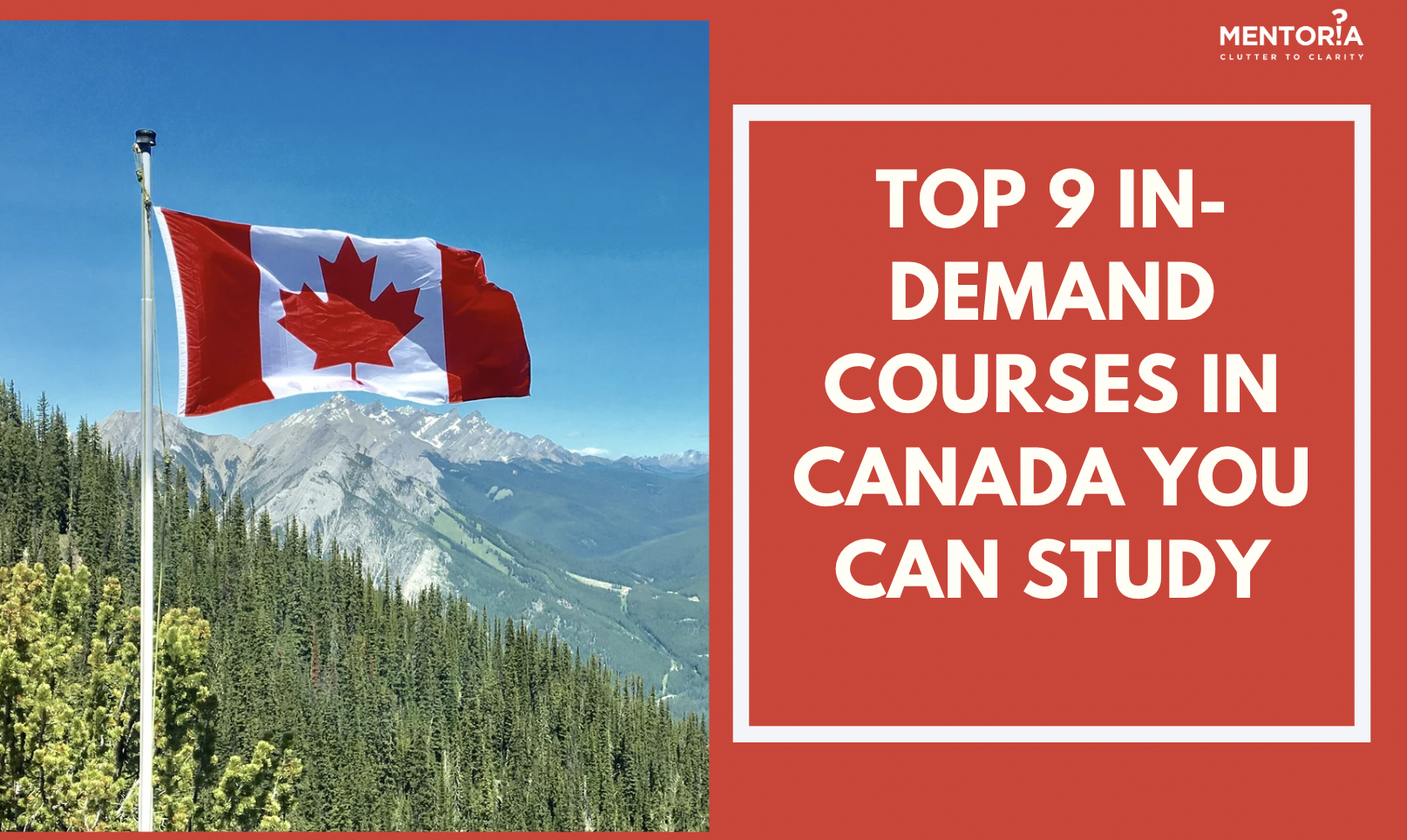 ---
---
Do you want to study abroad but the whole process of selecting a country and a course scares you? So many options, how do you choose one for yourself? Well, let me tell you what a little birdy told me- there just might be a country that's perfect for you.
Excellent healthcare systems, a highly developed, multicultural nation, home to the CN Tower and the renowned Tim Hortons, maple syrup, and maybe the most famous waterfall in the world- Niagara Falls. Yes, you guessed it right! We are talking about Canada.
Apart from the natural beauty and amazing quality of life, all levels of education in Canada are of the highest calibre. The country offers incredible opportunities for both education and employment,! If you're thinking about going abroad to study with the intention of working in that country, Canada would be the ideal place for it. 
Starting to consider Canada as an option eh? Let's explore your options in detail through this blog.  

First Things First, Is Canada a Good Place to Study?
In addition to having an organized educational system, Canada also offers degrees that are respected around the world. Canada draws many international students from all over the world due to its permissive post-study work (PGWPP) and immigration policies. 
In Canada, the course content is heavily focused on the industry. Compared to countries like the US or UK, where a degree may not guarantee a work opportunity, 90% of Canada's graduates can find employment within six months of completing their course. But of course, it is always simpler to settle down and find employment in Canada if you have a local degree and local experience. So now, let's look at some courses that are trending in Canada!

Choices, Choices, Choices!
These are just some of the most in-demand courses in Canada to give you a brief about what to expect when you are there. 
1. MBA (Masters of Business Administration)
Canada's master's degree programs are well known for their research-based focus. Let's start with the basics: The best course in Canada, according to many, is the MBA. This degree is among the most sought-after because of its global work experience and likelihood of landing a respectable career. In Canada, master's programs typically last one to two years and combine classroom and research.
If you are an MBA aspirant, you would know that Canada is steadily gaining recognition and interest. Unless you enroll in an MBA program like the Seth Kirodimal Business School or Rose Valley University, getting an MBA in Canada is less expensive than getting one elsewhere.
Some of the top colleges for an MBA in Canada are:
With an average yearly salary of 155,000 CAD, the Executive MBA program is really the top paying one in Canada. 

2. Computer Science And Information Technology 
In Canada as well as the rest of the world, demand for IT workers is consistently high. Software engineers and IT project managers now rank among Canada's top 10 most in-demand professions. Software engineers and IT project managers were in high demand, and the trend continues! As a result, a lot of students choose to study computer science and IT in Canada. Information technology offers intriguing courses on: artificial intelligence, machine learning, data science, big data, and other related topics. 
Some great courses in this field are:
Diploma in Information and Communication Technology

Certificate in Information Technology Business Analysis

Diploma in Computer Information Technology

Master of Education in Information Technology
Here are some colleges with great IT courses:
Some of the best pay rates in the nation are available in the IT sector. In Canada, the average starting income for an IT graduate is $75,154.

3. Business, Finance and Economics
Canada may be your best option if you're thinking about taking business management courses. Business management is one of the most popular degrees in Canada due to its options for earning relevant international job experience and strong career prospects. 
You may select a course from this field, some of your options would be:
BBA or Bachelor of Business Administration degree

Master of Management in Finance degree

Financial Planning degree

CPA (

chartered professional accountant)

CFA (chartered financial analyst) 

Master of Entrepreneurship in Technology Innovation Management

Managerial Economics

B.Com/M.A. in economics
Here are some top colleges:
In Canada, the average business economics pay is $31.43 per hour, or $61,293 annually. Most experienced workers earn up to $81,420 per year, while entry-level roles start at $42,179.

4. Medicine and Healthcare
Every country recognizes the significance of medicine, biological sciences, biotechnology, and pharmacy. The best colleges in the world, including some in Canada, offer top-notch medical education. Canadian medical universities and nursing schools interact internationally with other health organizations to provide students with the best exposure. 
Biological sciences, biotechnology, pharmacy, nursing, medicine (specialist physicians), and dentistry are the professions with the highest demand in Canada. 
In this field, there are courses like
BSc Food Technology

BS in Food/Health/Nutrition

Diploma of Holistic Nutrition 

BSc Genetics

Diploma in Practical Nursing

BS in Athletic and Exercise Therapy 
The famous colleges like University of Toronto, University of Montreal, McGill University  also provide good medicine and healthcare courses.
On an average, Family practitioners make $287,000, specialists in medicine make $370,000, while surgeons make an average of $487,000.

5. Media & Journalism
When you think about Canada and Journalism, does it remind you of Robin Scherbatsky from How I Met Your Mother? Well, it does to us! 
In Canada, one of the industries with the quickest growth is journalism. Students with journalism degrees can find employment as reporters, associate producers, associate media directors, content developers/managers, and media operations managers in major media organizations across Canada. Media professionals can explore new spheres, such as history and current events. The most popular courses in this area are:
Bachelor's degrees in journalism and media studies

Bachelors of Arts in Journalism and Business

Masters/Diploma in Journalism

BA Honors in Communication

 MA in Cinema and Media Studies
Here are some colleges for these courses:
Most experienced workers earn up to $96,194 per year, while entry-level employment starts at $51,750.

6. Engineering
if you are interested in engineering, next on our list of the top programs in Canada is engineering. Engineering programs in Canadian universities and colleges are well-known. In Canada throughout the previous few years, the number of jobs in this particular industry has only increased. The employment opportunities for engineering graduates are countless. These are the top in-demand specialisations:
Mechanical Engineering

Civil Engineering

Electrical-Electronics

Chemical Engineering

Industrial & Manufacturing Engineering
University of British Columbia, University of Alberta, McGill University  are among the top colleges.
In Canada, an engineer can expect to make $54,246 per year on average.
7. Psychology & Human Resources
Employers are constantly on the lookout for talented and skilled individuals. However, finding and paying such people is a constant struggle for businesses everywhere. Because of this, businesses make a special effort to train and upgrade the skills of their current personnel. As a result, counseling psychologists, career counselors, industrial psychologists, and HR specialists are in high demand across the globe. 
Several institutions, including Trent University, University of Windsor, and York University, offer these among the many courses in this field:
BA Psychology

BSc Cognitive Science

BSc Health Behavior Science

BSc Psychology 
Not only are psychologists in high demand, but they also have some of the best salaries in Canada. In Canada, a psychologist makes an average hourly wage of $59.85. 

8. Hospitality
In Canada, studying hospitality management is a fantastic choice. Students who get these degrees learn how to create business plans for the travel and tourism sector.
Many students are choosing to engage in these courses. Canada equips its students with the skill sets necessary to excel in the profession by offering them cutting-edge food technology and highly skilled programs.
Here are some common courses in this field.
Diploma in Hospitality

Diploma in Culinary Management

Diploma in

Hotel and Restaurant Operations Management 

Resort & Hotel Management Diploma

 Hospitality & Tourism Management
are some of the top courses to get into this field. 
Niagara College, George Brown College, Humber Institute of Technology & Advanced Learning, Ontario College are some of the best colleges for these courses. 
The annual average wage for the hotel industry in Canada is $42,900.
9. Agricultural Science & Forestry
Given that it is a topic of study that is constantly expanding in the wake of the climate catastrophe, many students apply to study agricultural science and forestry in Canada. The study of agriculture can help to find solutions to those issues. In Canada, there are several career opportunities in forestry and agricultural science. Agronomists, agricultural consultants, forestry consultants, and agricultural scientists are some examples of typical occupations. 
Here are some courses in this field:
Bachelor of Science in Agriculture

Bachelor of Science in Agribusiness

Master of International Forestry

Master of Sustainable Forest Management 
The University of Alberta, the University of Saskatchewan, and McGill University are some of the best colleges for this course. 
The starting salary for entry-level positions is $35,976, while the average yearly salary for experienced workers is $81,136.

Pack Your Bags And Get #CareerReady!
These were some of the top, in-demand courses if you wish to study in Canada. Now that you have all the information, don't delay the process, you have to work on your test scores, scholarships, admissions and legal process to live your Canadian dream!
Just in case you need some guidance, we at Mentoria are here to help you.
Mentoria promises to handhold you during your career discovery journey – from the time you sign up until you get into a career you love. Even our College Admissions Planner packages can help you out!