Want to Study at the Best B.A. Colleges of India? Here's a Curated List!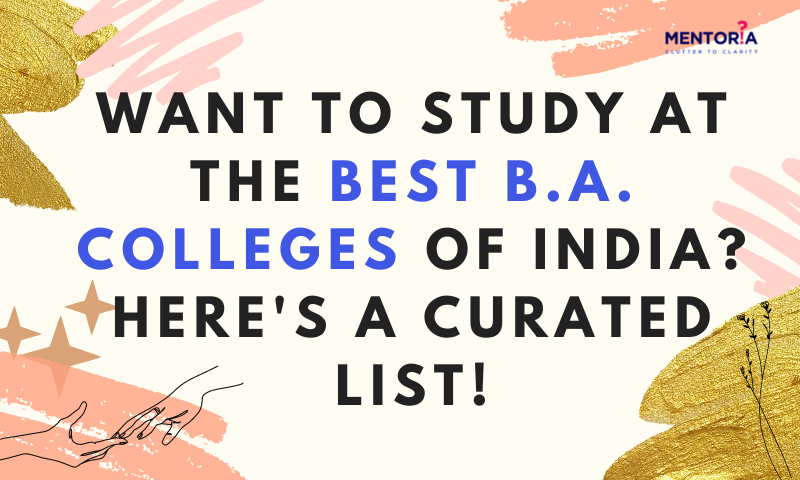 ---
---
B.A. or Bachelor of Arts is a 3-year undergraduate degree programme available to students for a broad range of courses. It is a bachelor's course in either the liberal arts, social sciences, or both. Students must pass their Higher Secondary Exam (10+2) in Science, Commerce, or the Arts from a recognised board in order to enrol in a B.A. programme in India. A wide range of B.A. colleges and subjects are available in India, along with adequate research equipment.
You can enrol in these courses directly based on your Class 12 exam scores or through an admissions test.
What are Some Of The popular B.A. Courses?
Here are some of the most opted for courses in B.A. which you may pursue as an undergraduate degree!
What Are The Top B.A. Colleges In India?
So, here's a list on some of the best B.A. colleges in India!
St. Stephens College
Set up in 1881, St.Stephens, other than being one of the best B.A. colleges in India, is also the oldest college in India. It has been ranked as one of the most popular educational institutions for Bachelor degrees and has teachers from all walks of life.
The following bachelor's degree programmes are available at the government-funded St. Stephens Institute: B.A. Economics (Hons), B.A. English (Hons), B.A. History (Hons), B.A. Philosophy (Hons), B.A. Sanskrit (Hons), and many others.
Kirori Mal College
Founded in 1954, Kirori Mal College is a part of the University of Delhi. The institute has 20 departments that offer students a range of courses and degrees. Amitabh Bachchan, KK, Shakti Kapoor, and many other well-respected and well-known people are among its former students.
They offer B.A. (Hons.) courses in history, english, geography, hindi, and economics.
Lady Shri Ram College
In 1956, LSR College was founded in New Delhi. A recently renovated, computerised, and user-friendly library with internet connectivity, books, online journals and magazines are a part of LSR's infrastructure.
They offer B.A. (Hons.) courses in sociology, psychology, English, Hindi, history, philosophy, and political science.
Hindu College
Hindu College is among the oldest academic institutions in India, having been founded in 1899, during the nationalist movement against the British Raj. During the Quit India Movement, the college was regarded as the centre of political and intellectual discussion. Yes, you'd be studying in a college which was built years before even your parents were born! 
Numerous courses are offered by Hindu College, including B.A. Hindi, English, Philosophy, Sociology, Political Science, and many others.
Madras Christian College
One of Asia's oldest functioning colleges is MCC, which was founded in 1837. The college is a part of the University of Madras, but it operates independently (as a deemed university) from its Tambaram, Chennai, campus.
The university has an aided and self-financed stream of Humanities programmes in B.A. English, Political Science, Sociology, and Economics.
Miranda House
It was founded in 1948 and provides a variety of science and liberal arts courses. Miranda House is a constituent college for women at the University of Delhi. Many find the building's all-red brick construction to be a visual pleasure.
Bengali, Economics, English, Geography, Hindi, History, Music, Philosophy, Political Science, Sanskrit, and Sociology are among the B.A. (Hons.) degrees they offer.
Loyola College
NAAC has awarded Loyola College in Chennai, which was founded in 1925, a "A+" accreditation for both its academic and extracurricular courses. Every student at Loyola is expected to earn non-academic credits in addition to their academic courses, either through extracurricular activities or community service.
They offer B.A. courses in Tamil literature, English, history, sociology, and economics.
St.Xaviers College
St. Xavier's College, which was founded in 1869, places equal value on extracurricular activities and organises a number of departmental festivals. Xavier's boasts of their well-reputed teachers for the humanities stream with reputed poets, writers, activists, researchers contributing to their expertise in the syllabus for the batches.
The B.A. courses they offer cover a wide range of topics. Students can pick from subjects including languages, psychology, economics, statistics, literature, and ancient Indian culture.
Hans Raj College
The D.A.V. The College Managing Committee established Hans Raj College in 1948 in honour of Indian patriot and educator Mahatma Hansraj. The college was initially founded as a male-only institution but switched to co-education in 1978.
They provide B.A. (Hons.) degrees in a number of languages, economics, and political science.
Achieve and Boast Your Arts Degree With The Help of Mentoria!
Do you want to pursue a Bachelor's in Arts degree? Confused about colleges? We've got you! Kick-start your career discovery journey with Mentoria and discover the right career fit for you. Feel free to call us to speak to our career mentors and choose the right career guidance plan that suits your needs.
Mentoria's career guidance programme enables you to choose your perfect fit from 3 streams, 850+ courses, and 12,000+ careers, and discover what will bring out the best in you.