Creating a Resume? Here's How You Should Structure It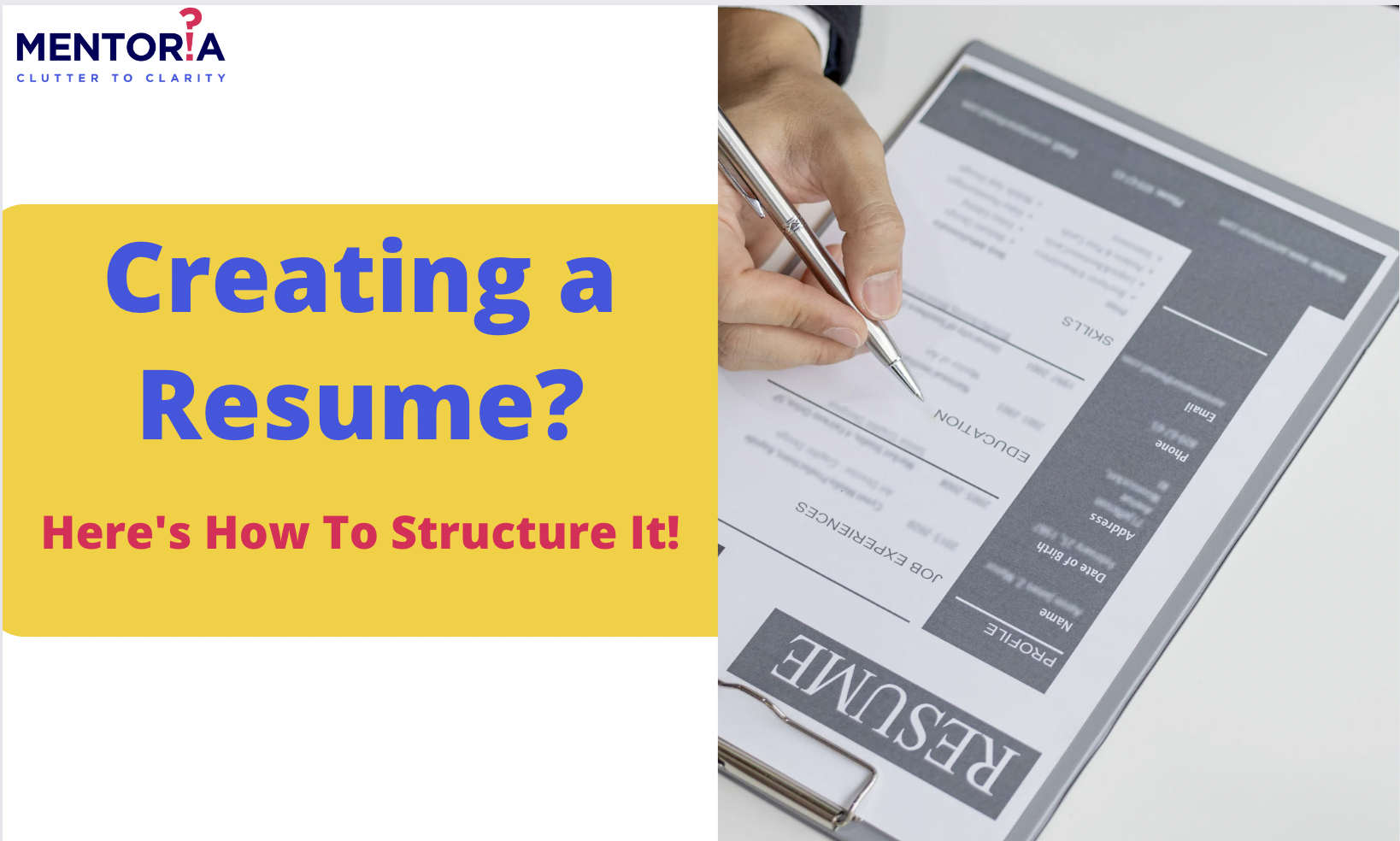 ---
---
Resume, the golden key to your dream job! Ever wonder how much time hiring managers devote to reviewing each resume? According to statistics, 7 seconds. This implies that you have just seven seconds to produce a compelling, understandable, and appealing résumé. Due to this, even the organisation of your resume's sections and general formatting are quite important. So, how do you do it correctly? We'll assist you in doing just that, then! We'll discuss the top 3 resume formats in this article and offer advice on which one is best for you and your background. Now, without further ado, let's begin.
The Basics of a Resume Structure
There are mainly three main resume structures. Hold your horses because we're about to spill the tea on how to structure a resume like never before! 
Functional Resume Structure

Reverse-Chronological Resume Structure

Combination Resume Structure
However, there are some general facts to know before we go into the specifics. Each of these formats draws attention to a different aspect of your resume, so whatever you choose must be based on your history, talents, and professional experiences. As a rule of thumb, pick the format that highlights your profile the best as a rule of thumb. A functional resume layout will be most effective for you if, for instance, you are a new graduate with no work experience because it places emphasis on your skills.
On the other hand, an experienced professional should choose a reverse-chronological structure with job experiences as its main focus.
Functional Resume Structure
The functional resume, sometimes referred to as the skill-based one, places far more emphasis on your skill set than your work history.
As a result, young graduates or career changers find it quite appealing! It's the best option if you're just starting out!
The functional resume structure consists the following sections:
Contact details

Objective skills

Areas of strength: Describe your skill set and how it relates to the position you are looking for in your summary or areas of strength.

Education

Optional strength
The reason why this resume stands out is because it focuses on skills rather than experience. This is done to persuade the recruiter that despite having little to no job experience, you possess the qualifications for the post. Suppose you're a recent grad, for instance. In that case, you may use leadership as one of your strengths and explain how various extracurricular and university activities helped you develop and demonstrate such a skill.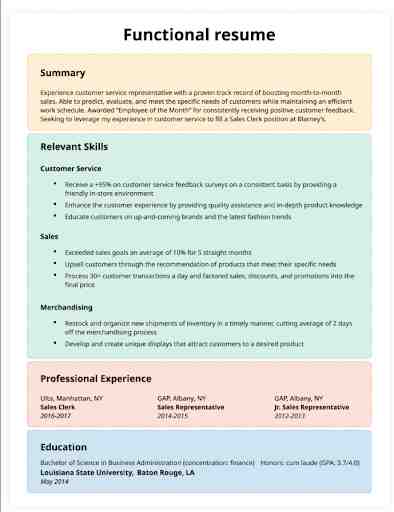 Advantages 

Disadvantages

Emphasises specific skills and strengths.

It enables you to describe how these abilities relate to the position.

Let creatives elaborate further on their portfolios.

The format doesn't contain work experience, so recruiters might be wary that you're hiding something.

Lack of coordination.
Reverse-Chronological Resume Structure
We can confidently state that this resume format will continue to be one of our most popular in 2022 and beyond.
Recruiters can easily follow because each section lists its entries in reverse-chronological order. Most professionals appreciate it because it accentuates an applicant's work history and skills section. Reverse-chronological resumes further have the following sections, listed in numerical sequence, in addition to the work experience and abilities section:
Contact information

: Clearly state your name, phone number, address, and email in your contact information. You may also connect to your GitHub or LinkedIn profile.

Objective

: These 2-4 sentence summaries of your best experiences and accomplishments, or your talents and professional objectives, should be included in your resume.

Work Experience

:  In reverse chronological order, list your previous employment, emphasising your key duties and accomplishments.

Skills

: Include your most pertinent talents under "Skills."

Education:

List your academic achievements in reverse chronological order. You could omit your high school diploma if you listed a B.A. degree or higher.

Optional Section

s: If you have room, you can link optional sections such as charity work, personal projects, languages, interests and hobbies, etc.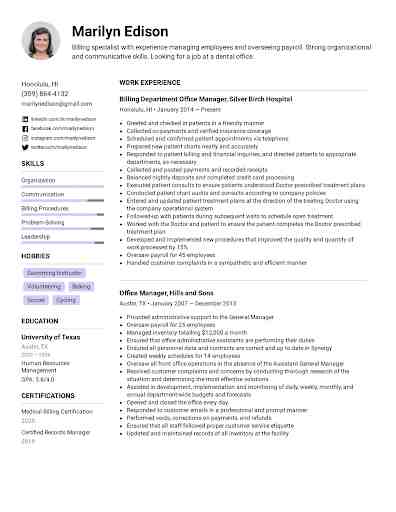 To help you determine whether this is the proper resume format for you, we've created concise pros and cons table to help you make up your mind:
Pros 

Cons

Emphasise your professional accomplishments and job experience.

Simple and easy to skim.

Because of the reverse chronological order, it is clear.

Emphasises a young graduate or career changer's lack of experience.

Draw attention to any gaps in your career.
Combination Resume Structure

The combination resume structure, sometimes known as the "hybrid" structure, combines aspects of both the reverse-chronological and functional formats.
It places equal emphasis on both the skills/strengths portion and the work experience section, with the former receiving more attention.
The sections are often organised in the following order to attain this balance:
Contact Details

Objective or summary

Areas of strength

Education

Work experience

Optional Sections
Or, here's what a hybrid, aka combination resume, looks like: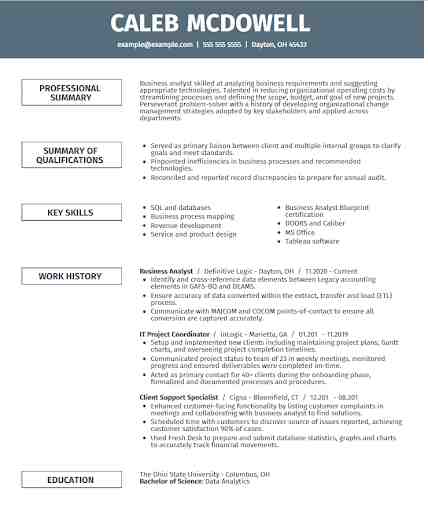 With the addition of the work experience section, the sections are, as you can see, nearly identical to those in the functional structure.
The arrangement is, therefore, perfect if you want to emphasise both your skills and your lengthy professional experience.
The pros and downsides of the combo structure are listed below:
| | |
| --- | --- |
| Pros | Cons |
| It lets you highlight both work experiences and skills using minimal space. | Not the best if you recently graduated with no work experience.  |
Which Resume Structure Should I Pick?

You are now familiar with all three resume formats, so choose the one that best suits your needs. If you're a beginner ahead with the functional format and have some experience, go ahead with the reverse-chronological resume structure; after all, it's the most commonly used format of all time!
 So get in touch with our counsellors today and find out the easiest ways to efficiently get a head start in your journey while you get #CareerReady! So what are you waiting for? Take the Mentoria Assessment today!