PGDM or MBA: Tips to Choose the Right Programme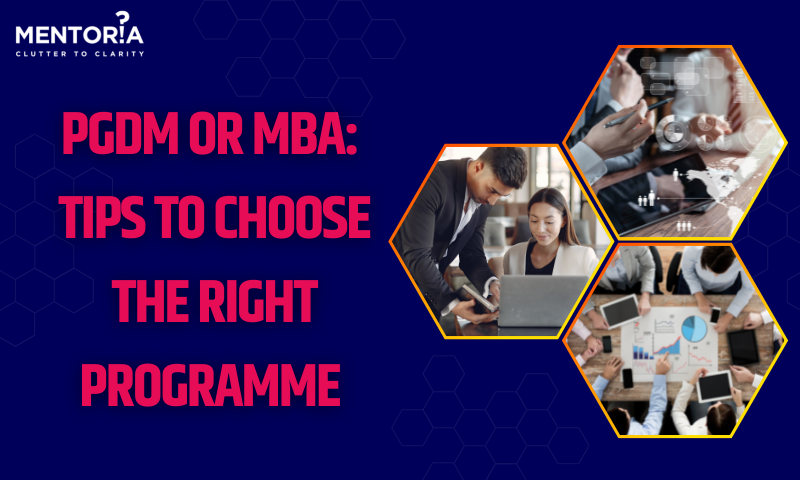 ---
---
Just graduated? Can't decide between an MBA or a PGDM?  Don't worry, there are many in the same boat as you! Put your thinking cap on and let us help you plan ahead!
Make this  journey smooth just by knowing the differences between various courses out there and choosing the one for you. 
Just because your brother is a CA or your sister has pursued an MBA, you don't need to go down a similar path. We can help you choose a course that makes you use YOUR full potential. 
An MBA is a Masters in Business Administration, while a PGDM is a Postgraduate Diploma in Management. Both courses have their own set of pros and cons. Let's look at each one in detail before diving into the differences.
Let's get to know an MBA first! 
Ask any older person for advice on master's degrees, and they're bound to recommend an MBA. It is one of the most sought-after degrees, especially for those who want to succeed at management. If you want a good position at a large corporation, an MBA will open the doors faster for you. But is it worth the money and the effort? Let's find out!
MBA is a professional course that business schools, colleges and establishments offer graduates to prepare them for leadership positions. It's offered as a full-time, part-time and correspondence or long-distance course. A typical MBA, including internship opportunities and semesters, lasts two years.
This postgraduate degree leads to excellent career opportunities in diverse industries like manufacturing, healthcare, finance, logistics, education and several more. An MBA allows you to specialise in roles like Sales & Marketing, Business Analytics, Finance, Operations, Supply Chain Management and more.
MBA is the most sought-after course in the world. Studying it from a reputed university can burn quite the hole in your pocket but also open up opportunities in the best organisations, not just in India but around the world.
Based on their job role, an MBA graduate can expect a basic pay of INR 8-12 lakhs per year. IIM Ahmedabad takes the top spot in India's list of top MBA colleges, closely followed by IIM Bangalore, IIM Kolkata, and so on.  Apart from banks and financial institutions, even companies like Amazon, JP Morgan, and Apple also hire MBA candidates.
PROS AND CONS: MBA
For many students, an MBA is a natural next step in their professional development. Professionals with MBAs are better prepared to take on leadership positions and manage other team members. Here's a list of reasons why an MBA can be beneficial:
MBA graduates frequently advance to more demanding and notable positions at a faster rate and are frequently given a better salary.
The course provides ample opportunities to network.
Just like any other course, this one has its own downside too. Let's look at some of them:
The course fee at top institutes can exceed INR 20 lakh, which is a substantial financial strain that many students would be hesitant to accept.
It involves taking a two-year break from earning, which can cause a significant dip in savings.
An MBA is about more than just an education degree. MBA programs can allow you to connect with a broad range of experts and become a member of a large global alumni network.
Let's Now Understand PGDM!
PGDM is an alternative to the MBA programme. This two-year programme helps management applicants develop the right soft and functional skills to become industry-ready management professionals.
The private sector is always looking for candidates with strong managerial and technical skills for various job roles. Thanks to the PGDM course syllabus, aspirants can be considered professionals after the course. 
The scope of PGDM is expanding due to the increasing demand for business creativity and new problem solvers. If you like the idea of being a leader or an entrepreneur, this is the course for you! You can work in banks, educational institutes, export companies… the list never ends. 
If you love learning and are determined to put in the hard work, a PGDM can be an extremely rewarding option. Once you've completed the course and got a few more years of  work experience, you can expect to earn a salary of more than 50 lakhs per annum.
Some of the top colleges and institutes for this course are the New Delhi Institute of Management, International Management Institute, Delhi and IIT Kanpur.
In India, PGDM salaries range from 1.6 Lakhs to 7.5 lakhs, with an average salary of 3.6 Lakhs a year, though this varies depending on experience, skills, location and work functionality.
Pros and Cons: A PGDM 
You can be convinced of interacting with peers who will match your intellect and engage in healthy competition because PGDM is only open to the brightest minds in the country. Here are some advantages of PGDM.
Because of the practical insight PGDM courses provide, many employers in India and abroad prefer them over an MBA. 
Institutes with PGDM degrees work harder than academic institutions with MBA degrees to place their students in various companies. 
You can learn a variety of skills and expand your networking opportunities. It enables you to quickly and effectively contribute to your employer's organisation.
Sounds too good to be true? Let's look at the downside.
Some organisations disregard the PGDM diploma in favour of an MBA degree.
Students pursuing a PGDM are not eligible for a PhD because it is a doctorate degree that can be chosen only after earning a master's degree.
Let's spot the differences!
Given the similarities, it's natural to get confused between the two. Let's spot the differences to understand them better: 
The duration of an MBA programme is one to two years, whereas a PGDM programme lasts two years.
The average MBA college fee is around INR 16.5 Lacs whereas a  PGDM course typically costs around INR 15.38 Lacs.
MBA curricula are not frequently updated. While it is not the same for PGDM, the syllabus may change based on changing business needs and trends, and it includes many practical subjects.
To study an MBA abroad, you must provide GMAT scores. Many universities accept GRE scores as well. In India, GMAT is widely accepted along with other management exams such as CAT, MAT and so on. For PGDM programmes, you may not be required to provide GMAT scores.
Core subjects are shared by both MBA and PGDM programmes. However, according to some experts, most MBA programmes focus on theoretical and technical aspects of management rather than taking a hands-on and practical approach which is taken by PGDM.
In terms of placements, most PGDM institutions outperform MBA institutions in terms of placement.
MBA Finance fresher salary in India ranges between ₹ 0.2 Lakhs to ₹ 52.8 Lakhs with an average annual salary of ₹ 2.5 Lakhs. It varies depending on the university/institution you attend and your quality of work.
MBA programmes are accredited by the university with which the college is affiliated. AICTE approves PGDM programmes.
Tread Smartly Towards Your Ideal Career with Mentoria
While both programmes aim at coaching you in administration and management, they take very different approaches. In general, the PGDM course is far more industry-relevant and practical in terms of the job market. The value of an MBA and PGDM is based on a number of variables, including the curriculum and teaching quality as well as the standing and reputation of the institution.
Both MBA and PGDM prove useful for government jobs, but you should choose one based on your career goals and the sector you want to work in. Getting a government job in India is like hitting the jackpot, and its significance has grown even more since the COVID-19 pandemic.
Now that you know the distinction between the different programmes, you can review the MBA and PGDM course details, assess the courses, and choose the right one based on your professional and academic interests. If you need help knowing your interests and skills, begin your career exploration journey with Mentoria and find the right career for you. This will also help you decide which of the two courses you need to choose, or if you need a different one altogether. We hope this helps you make the right decision and gives you the clarity you need to choose your master's degree!