Six Interesting Career Journeys at Mentoria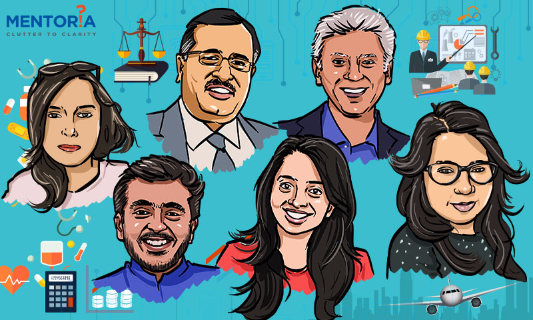 ---
---
Let's face it; without the right tools, very few people get their career choice right in the first go. At 15, when most of us make our career decisions, we've experienced barely a fraction of the options that the world has to offer. How are we to know for sure which of our varied interests would make a great full-time career? Which of our interests are simply fleeting ones we'll forget all about by this time next year, and which ones are likely to remain close to our hearts for decades to come?
At Mentoria, we know how hard it is to make the right career choice, given how most of us, too, didn't exactly get our careers right from the very beginning! Here are six stories of Mentorians who took some time to figure out they are #MentForThis – that their ultimate passion in life was enabling millions just like them to find their ideal career paths.
Nikhar Arora, Co-founder of Mentoria
Dreamt of becoming a pilot at 15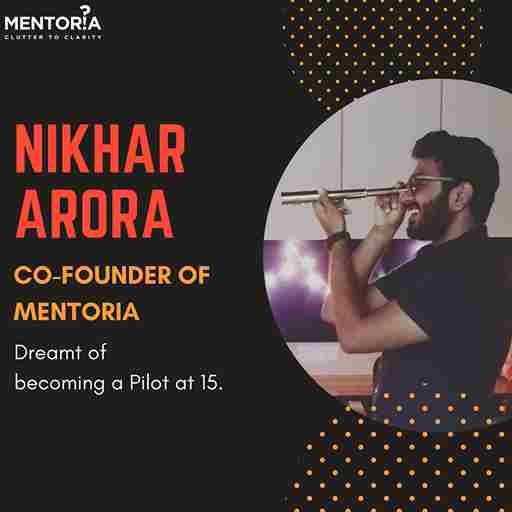 When Nikhar was 15, he wanted to become a pilot! He even took up science after Class 10, but when he saw all his friends get into engineering, he decided to go with the flow and enrol himself on a JEE prep class. It didn't take him long to learn that engineering – or even science – was not his heart's true calling. He dropped science and decided to pursue filmmaking instead. But two years into his graduation course, he understood that filmmaking wasn't exactly his biggest passion after all. With one year left until he graduated, he was confused about his future and turned to his friends for help. But conversations with friends and fellow classmates only led to one conclusion – almost everyone was unsure about their next steps. That's when Nikhar realised that his true calling was in helping people figure out how to choose the right career paths, so no one would have to go through the stress and confusion he and his friends went through. Today, he runs Mentoria and helps thousands of individuals just like him to discover themselves and the careers they will enjoy and excel at.
Does Nikhar's story resonate with you? Take Mentoria's holistic career assessment test, helping you discover a career based on your unique strength and ability.
Megha Saluja, People Manager at Mentoria
Wanted to become a doctor, just like her father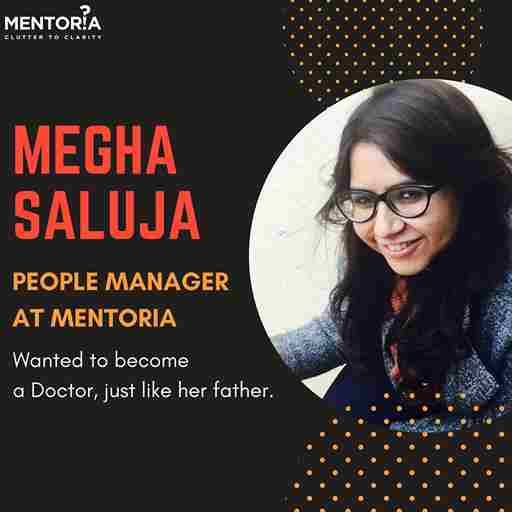 As a child, Megha often visited her father's clinic and dreamed about becoming a doctor just like him when she grew up. Her elder brother, too, was pursuing science, but she saw how much he struggled with the subject and realised that she probably wasn't cut out for it. Back then, her options were simply science and commerce, and as the first felt too tough to handle, she decided to go with commerce instead. She turned to her seniors for advice, all of whom encouraged her to crack the CA exams. She gave it a shot but knew that it just wasn't the path for her. So she took up several internships during her graduation, one of which introduced her to the world of HR. She loved every minute of her HR stint and chose to specialise in it during her post-graduation. During the course of her education, she was introduced to Psychology as a subject, and Megha knew she wanted a career where she could put her psychological understanding to good use. Today, Megha manages people at Mentoria and combines her love for psychology and human resources to help people find the right role at Mentoria!
Sameer Bhakri, Co-founder of Mentoria, Pro Bono Marketing Consultant for Non-Profit Organisations
Considered becoming a lawyer at 14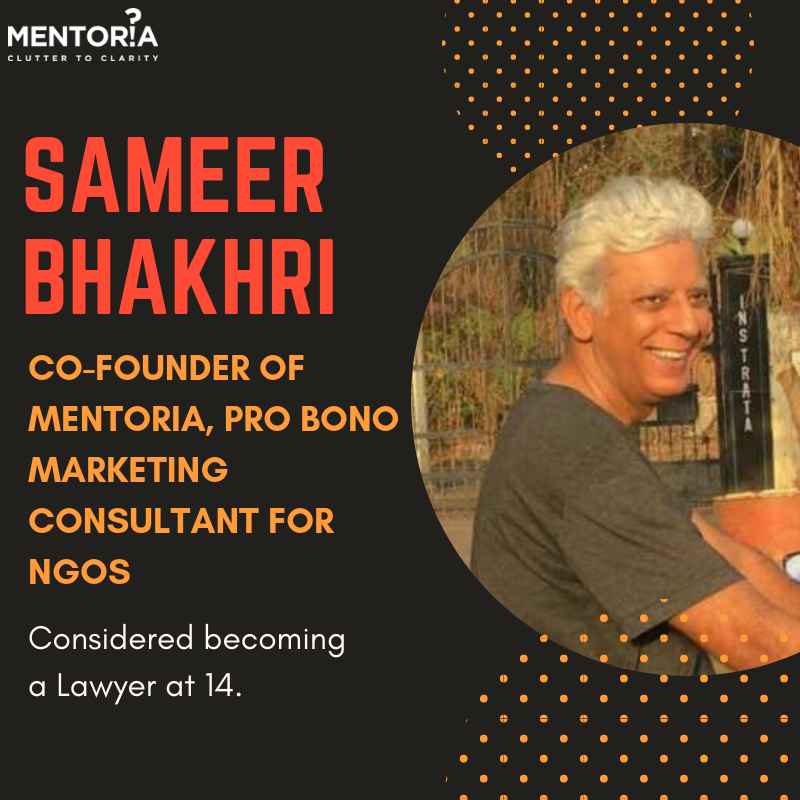 When Sameer was younger, he dreamt of becoming a lawyer for the underprivileged. However, his educational path took him elsewhere – he tried his hand at commerce and dreamt about pursuing an MBA abroad. He even took up a job as a salesman so he could save up enough money for his MBA. His sales career took off and before he knew it, he got into Industry Analysis and helped a friend launch India's first direct marketing company. A decade later, he began working for CRISIL and even went on to become the head of HR at CRISIL. The role helped him see the plight of the underprivileged from a new perspective, and he quit his corporate job to work with nonprofits instead. His sole aim in life was to enable everyone – regardless of their background – to get an equal and fair chance at success. Through Mentoria, he is working to bring about a phenomenal social change in our country and enable individuals to live happier, more productive and successful lives.
Need some help trying to figure out your calling? Let Mentoria give you a hand. Our 4-step career guidance solution helps us find the right career fit for you from 3 streams, 850+ courses & 12,000+ careers.
Khyati Mehta, Content Editor at Mentoria
Almost became a Chartered Accountant!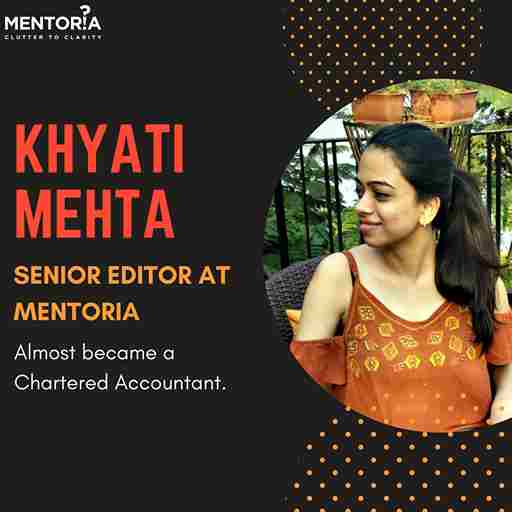 When Khyati reached Class 10, she knew she wanted to explore her interest in the English language, but her parents weren't entirely sure about the scope of such a career. They suggested that she opt for CA, but Khyati's creative inclinations spoke otherwise. So she decided to study for her CA exams while pursuing her BMM alongside. While she cleared her first CA exam, the second one was much harder and she gave up after her second attempt. She thought about taking up copywriting, but two internships later, she realised copywriting wasn't for her either. She wanted to write and reach out to people with the power of her words, which is when Mentoria came into her life. Today, she helps all of you with her informative blogs and communication material, doing what she loves best – pursuing her love for the English language while helping you discover what you'd love to do.
Ashish Arora, Co-founder of Mentoria, Founder and MD of HR Anexi
Once dreamt about becoming the Education Minister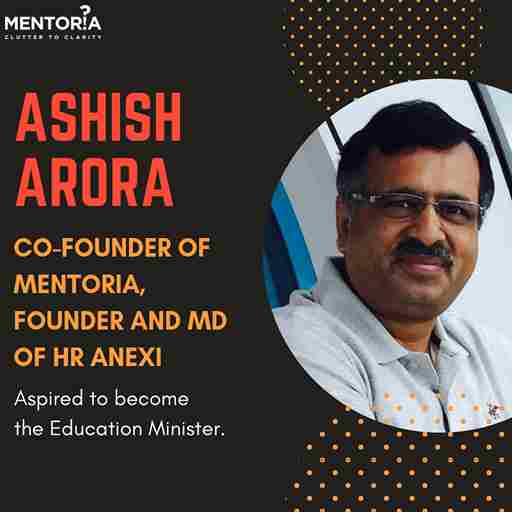 When Ashish Arora had to make his career decision, he was interested in joining the Civil Services and working his way up to the Education Ministry. However, after two failed attempts at cracking the Civil Services Examination, he decided to give up on his political dreams and chose to pursue an MBA instead. HR seemed like a natural option for him, as he could continue fulfilling his passion to teach and train individuals, if not at a young age like he would've done as a part of the Educational Ministry, then at a slightly later stage, where they would still need guidance to succeed in life. His passion for education led him to start Mentoria and HR Anexi, where he now helps individuals discover their dream careers and equips them with the right skills and training needed to succeed in those roles.
We at Mentoria know that the career journey is not necessarily a straight one. Get expert guidance from our passionate counsellors to help you make your career decisions at any point in your career journey.
Nisha Gupta, GM – Sales at Mentoria
Once considered becoming a doctor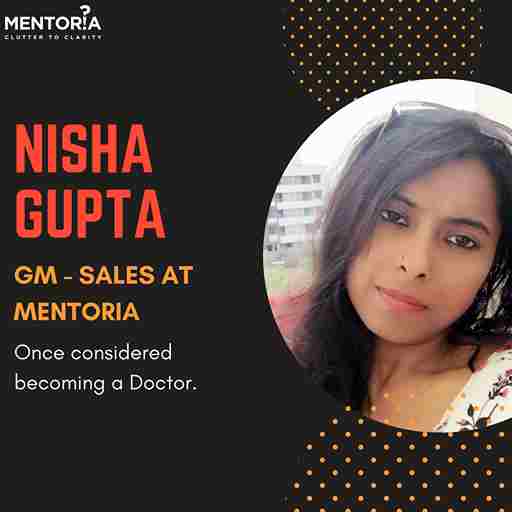 Growing up in a family of doctors and academicians, Nisha thought that medicine or teaching was a natural career choice for her. When she got to Grade 9, she knew that Biology wasn't her cup of tea, so she dropped the idea of becoming a doctor and opted for Math after Class 10. She decided to pursue engineering instead, a choice that was well-received by her family. Nisha was soon caught up in the gruelling demands of an engineering course, which she found incredibly mundane. She even landed an IT job, but she didn't really enjoy it. So she decided to pursue an MBA, hoping that the course would help her find some clarity. After a series of trial and error decisions and a lot of struggle, Nisha found her true calling in Sales & Marketing. Today, Nisha does what she loves best – meeting educators across India and introducing them to the Mentoria Solution, thus helping students get a headstart in making the right career decision so they wouldn't necessarily have to go through several wrong career choices before finding their true purpose.
For more stories like this, check out the video where industry professionals share their experiences over the years Meet Industry Professionals and discover their career journeys with Mentoria
As these stories will tell you, it is absolutely normal not to know what you'll end up doing at 15. But you don't have to necessarily go through a long journey filled with twists and turns to discover who you're meant to be. Take the Mentoria assessment and get your career decision right in the first go!